◀ CINEMA ▶
CLOSE ENCOUNTERS OF THE ELECTRIC KIND
NELSON YEO AND MICKAËL ROBERT-GONÇALVES

Nelson Yeo, Chinatown. Electric Soul #01, 2013, 3'42
Singapore/Paris, September 2015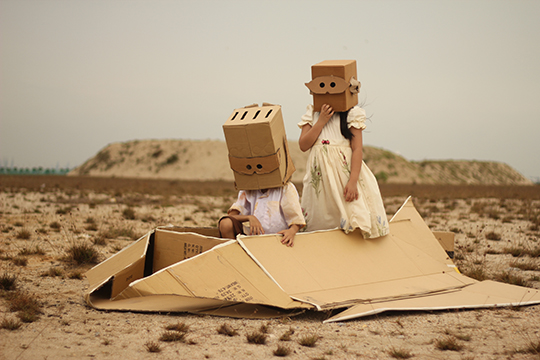 Nelson Yeo, Seeya in Elektrik Dreamz, 2011
Mickaël Robert-Gonçalves: Your work has been shown and published by Lowave since 2011. Seeya in Elektrik Dreamz (2011) is part of the Human Frames collection and was released in the Human Frames – Impermanence programme. Could you tell us a bit more about how it all started and your first paths in making films?

Nelson Yeo: I started out with no idea what the Singapore scene was like, just making the kind of films I like. So I was experimenting with all kind of genres, which is the path that I still follow closely today. I like deconstructing genre films in a way. The Substation, a local independent contemporary arts centre helped me a lot on my path as a filmmaker, most of my early works were shown there. I'm really grateful that such a platform like that exist in Singapore.

MRG: For now, you've made mainly short films. Do you consider that it is a natural "learning" for a filmmaker and do you think that you can experiment more with short films?

NY: It is definitely a natural learning platform for a filmmaker and because all my early short films are fully independent – I've never received any funding for them –, I have full creative freedom, no one is going to censor me. And if I failed, I have only myself to blame, so there's a lot of trial and error on my path as a filmmaker.

But as I progressed, I started to seeing the differences between short films and feature films. It's almost as if time runs a little differently in short films, like an abstraction of time, more conceptualized. You learn to trim away the fats and get straight to the point of what you really want to say. In my opinion, instead of conventional filmmaking with storytelling, what really drives an experimental film are pure raw emotions. Hence experimental films always felt more do-it-yourself and personal to me than anything else. I believe that anyone (!) can make an experimental film, because you don't really need any filmmaking skills.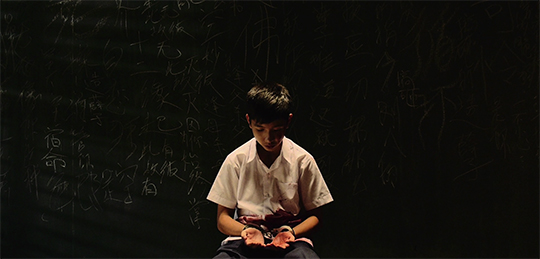 Nelson Yeo, Mountain of Knives, 2014


MRG: The last time we met in Singapore, you told me that you were preparing a feature length film, is this what you always wanted? Can you tell us about this project?

NY: For me, making the switch to feature film is the most difficult process I've encountered in my filmmaking career so far. Because I'm already so comfortable with the short film format, I'm finding it very difficult to slow down and take my time in telling a story and creating the world. In a way, it is a natural process, because most of the stories I want to tell now requires the longer running time, which brings it closer to reality, rather than being an abstraction. And I personally have the impression that my short films are starting to feel too crammed.

It's a film that deals with a drought in Singapore, a blacker than black comedy about how four individuals survive the apocalypse and find the will to live despite their shortcomings. I already have a script and am currently sourcing for funding, because unlike my shorter works, I can no longer fully self-fund this project...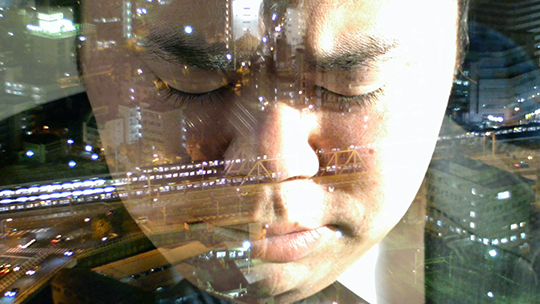 Nelson Yeo, The story I forgot to tell, 2013


MRG: From Seeya in Elektrik Dreamz (2011) to The story I forgot to tell (2013) and even to Mountain of Knives (2014) that I had the chance to see in Singapore last March, we can feel you're attraction to fantastic atmospheres, can you explain were this comes from?

NY: I have always been more interested in fantastical stuff. I have attempted straightforward drama before, but found out that I was no good at it the hard way. I guess my interest in the fantastical and surreal came from the films I saw as a kid, namely lots of 1990s Hong Kong films. And also probably because my family is in the Chinese religious goods business.

MRG: You also seem to be inspired by Sci-Fi movies, horror and fantastic genres...

NY: Definitely. Anything that's out of the norm attracts me.

MRG: Dreams (or nightmares) are somehow always present in your films, is this a theme you want to explore?

NY: I didn't realise that, so maybe it's a subconscious thing. Perhaps of more interest to me is the blurring of dreams/nightmares and reality.

MRG: You pay special attention to time in your films, as if you were trying to let the spectator slowly enter the character's head or consciousness. Is this intentional?

NY: Again, it's probably another subconscious thing. Time plays such an important role in films, it's hard to ignore it. Time changes everything; whether it heals, that's debatable. I'm interested in the cyclical aspect of time – karma and samsara or eternal recurrence.

MRG: Something powerful in your short films is the way you succeed in quickly creating a "world", a particular ambiance, a difficult task considering the short format of your films. Do you have an explanation?

NY: I guess as long as you believe in the stories you are trying to tell, it's difficult for the audience not to believe in it as well. It's all part of the magic of cinema, much more than any other art form. Again, time plays a crucial part. The audience are investing their precious time to watch your films, you get their attention for that amount of time, that's already a plus point. So all you have to do is to make sure that it's worth their while. But honestly, just have faith in your stories.

MRG: As Lowave is always trying to cross disciplines and to transgress established categories, we've been showing your films in different spaces like movie theatres, museums or exhibition spaces. For example, Chinatown. Electric Soul #1 was screened in the temple of cinéphilie in Paris – La Cinémathèque française – but also in a black box during the exhibition at Point Ephémère, an alternative art space. Do you like this circulation of your films? Is this something you desire?

NY: I like that fact that my works can be shown in gallery spaces. But I still need to come to terms with the fact that it's a different crowd from the cinemagoers. So hopefully, I will be able to create works specifically for these spaces as well.

MRG: Can you tell us a bit more about Chinatown. Electric Soul #1?

NY: Chinatown. Electric Soul #1 was originally created as part of a bigger project, a sort of tie-up to a feature film that I had in mind. It was supposed to reflect the state of mind of the protagonist.

MRG: This piece presents one of the most visited places of Singapore, but you show it sometimes empty, sometimes in slow motion. You seem also to focus more on the lights and gestures, giving us an impression that is really different from what we expect from life in Singapore. What were you planning to show?

NY: That was a feeling that I got when I visited the place in 2013. It was really weird that a place with so much warmth and so crowded, felt so alienating and eerie to me at that time. It almost felt as if I was lost in space and time.

MRG: As it's "Electric Soul #1", which project is #2?

NY: There were supposed to be a couple more accompanying pieces, but the project is currently on hold, because I encountered some difficulties in realising the accompanying feature film.

MRG: This one can be considered more as a video art piece, did you work differently to shoot it?

NY: I set out with a mood I wanted to portray and a piece of music I had in mind. Of course, I wouldn't have been able to get the rights to that music, so the one in the final version is a different piece.

MRG: The last time we met in Singapore, it was for a programme of 18 films you co-curated with other filmmakers. Mountain of Knives (2014) was part of it. Is the collective work something common for you? Does it make a change? And what about the experience of curating, did you enjoy it?

NY: I co-curated Hell On Earth: DIYU with another Singaporean filmmaker, Chris Yeo. We had a lot of fun making the films. It was film school all over again, we had to pool together our resources, crewed for one another's film. We struggled quite a bit because of the limited budget we were given, but it was all worth it in the end. 18 films were created over the span of about three months. As a film lover, I enjoyed curating quite a lot, especially because I get to see all these new works, and I was eager to present them for the first time to an audience. I will definitely love to do something like that again in the future.

MRG: To conclude, what is your upcoming project?

NY: Currently, I am just taking a break from making short films to save up and focus on my feature film project mentioned earlier. The working title is obviously The Drought.

MRG: Thank you Nelson!

NY: Thank you!