◀ LITERATURE ▶
A RENDEZVOUS WITH
KENNY LECK
KENNY LECK AND SILKE SCHMICKL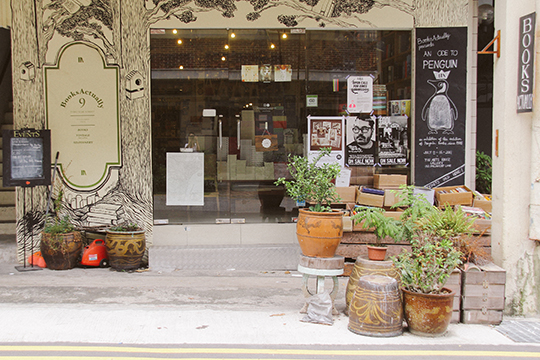 Façade of BooksActually, Singapore, 2014 © BooksActually
Tiong Bahru, 14 May 2015


BooksActually, established in 2005, is an independent bookstore specialising in Fiction and Literature. This includes Poetry, Essays, Literary Journals, alongside obscure, critical works and antique/rare editions. BooksActually houses the largest collection of Singapore literary publications including some out-of-print titles and also stocks titles from various subjects such as History, Biography, Current Affairs, Human Sciences, Math/Natural Sciences, Travel Narrative, Food Narrative, Aesthetics, Music and Film.

http://www.booksactually.com


Silke Schmickl: Hello Kenny, thank you for having accepted to have a conversation with me for Singapour mon amour. It has been exactly 5 years since we met each other for the first time, in May 2010. Five years later I come up with a big art project called Singapour mon amour and you are one of my friends who are part of this love story that I developed with this country, its people and its art scene. And especially the bookshop that you co-founded and direct: BooksActually. What is BooksActually? How did it start?

Kenny Leck: We are finally reaching our 10th anniversary by the end of this year. It has been quite a hectic and tiring journey, and not to sound cliché but it is cliché, it has been fulfilling, it has been fruitful and our friendship is one of those fruits. We have always wanted to run a bookstore. For the first 12 months we were doing a lot of book bazars, mostly at National University of Singapore, and we went there to set up a few tables and started selling books, that's how it all started. But we did not just want to have a business model where we were doing book bazars in schools but we really wanted to have our own store. There was a lot of good luck involved when we managed to set up our very first own small space in Chinatown at Telok Ayer Street and everything just progressed from there. Back then the store was very small, around 700 sq ft, and we didn't have a lot of books, just a few items, it was only me and the other founding partner Karen Wai. BooksActually has then evolved to a larger store in a different location. We have so much more things now and three cats, to every location we shifted we increased the number of the cats and humans, that's were we are now.

It is a business, it's a for-profit business but we don't look at it and say there is a 5 years plan, there is a 10 years plan, we must be this we must be that. It has always been a result of when an opportunity arises or when it's time to do something, then we'll do it. Even now when we are publishing under Maths Paper Press, that only came about because we reached a point where, in 2010, we had known a lot of the local writers through the bookstore and we thought we might need some resources to do some publishing. We know these local writers and they have stories, we have the opportunity to publish them, so why not?! It has always been a natural progression.

SS: Lowave's progression has been similar, a very organic evolution where new encounters bring new ideas. If you just remember the very first moments, was one of the motivations the fact that there were no bookshops of that kind in Singapore? Was there this idea that you could fill a niche or a market that was not occupied? Or were you just a book lover and you felt like fulfilling this dream?

KL: A combination of factors, I guess. Definitively there weren't a lot of small independent bookstores. The bookstores in Singapore's history say it will take us 50 years worth of our history; there tend to be a lot more bookstore chains, retail chains such as Times bookstore, Popular, MTH and Kinokunia. It has always been a very retail chain environment but small bookstores are almost non existent. We didn't really set it out to do market or business research. I think what came to us was that a lot of it was actually motivated by my past work experience. Before National Service, when I was 18, I didn't study too much but I needed to have a job. I started looking at this bookstore chain called Towers Books. They were known as all records and all books, they were good and very indie even though they were a retail chain from the States. That was my first job experience and I enjoyed the whole process due to the fact that I love books, I grew up with books. Reading to me is second nature and to work in an environment to be surrounded by books must made me happy. I finished National Service and had to work again and I went to apply for a job in a smaller bookstore, Borders bookstore, back then they were really good, they were huge and I ended up working for them for nearly 3 years. I learned whatever there was to learn and then reached to a point when work was getting repetitive and I wanted to figure out what next. What next included me wanting to do my own business. I always wanted to run my own business, it could have been a chicken rice store, it could have been a bookstore, it could have been anything that would make sense. Working at Borders and Towers cemented that relationship I have with work, if I am working in that environment it doesn't feel like work anyway. I know book suppliers, I am familiar with the trade so I said why not try to do maybe an online bookstore and maybe some of these book fairs since I know where to get the books. That's how it all started, it's a combination of factors that led me into it.

SS: It's fascinating! When I look at the Singaporean art scene, I always feel that the literature scene is amongst the most progressive, composed of a group of creative minds who dare to doubt more. This is also linked to the medium, I am not saying that this is a purely Singaporean phenomenon, it's also something that I observed in the Middle East or other places in the world. Do you share this impression of a progressive scene that tries to go to places where other people won't go? Is that something that triggers your interest and gives you the energy to do what you do?

KL: I have not seen it in that way. Generally, from a very government point of view, the literary arts are usually the least supported in terms of the numbers of the funding. When you look at visual arts and theatre, these disciplines get the most annual funding. Literary arts are always the poorer cousin of everybody else. In that environment the literary arts tend to find their own resources and finally because the literary arts can be a very solo, single-person endeavour. You are a writer and you basically write for yourself, you just need a place to write. If you are doing theatre it is different, you need a theatre company, you need a stage so on and so forth. The literary arts can be a very isolated activity. If some of the writers are good friends then you'll see some sort of collaboration, but during the earlier 1960s, 1970s, 1980s and 1990s it has always been a small and isolated community and nobody seemed to know that they exist. And that has given us current bombs where a lot of us still don't know that Singapore literary arts do exist in the first place. There are a lot of challenges, channels that soak energy, where the people who do literary arts seem to be much more vibrant now to the point where you will have them asking for even more funding from National Arts Council. You see individuals such as Pooja Nansi organizing performance work sections for Speakeasy and all of them are doing different things. They are trying to collaborate with each other.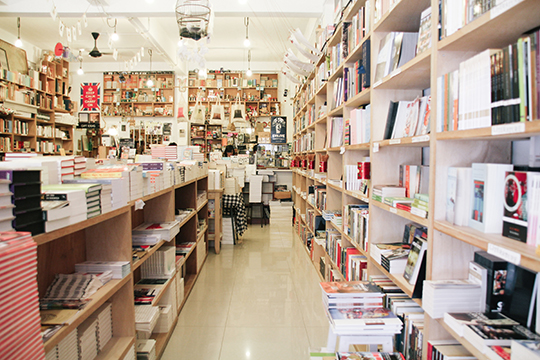 View of the beautiful bookshop, Singapore, 2014 © BooksActually


SS: That's interesting and leads me to my next question. I realised that in Singapore a lot of visual artists are writers as well, I can think of artists like Jason Wee, Shubigi Rao, Ho Tzu Nyen... Is that something that you could describe from your own perspective, as someone who has published some of these writing artists?

KL: There is that mixture, that rojak I guess, where you have visual artists who are very much capable to be writers themselves and they even started in their earlier days. The most well known would be Arthur Yap, he has since then passed on in 2004, but he is actually a very well known writer, poet, and a well known painter as well. We only learned this very much later, when we looked at the older covers of his and other people's books of his generation. Other writers had actually asked him for permission to use some of his paintings to be their book covers. This shows that they were talking to each other and they knew that he was a poet and a painter as well. An even more obscure writer would be Lin Sin Sin, she works both as a poet and she does mixed media installations as well. That cross discipline, that mixture has always been part of the puzzle of our culture, where a lot of people who are in the arts tend not to specialise but tend to be able to be general, all trades maybe, that's that unique part.

SS: This seems very positive to me, coming from a city like Paris, where everything is very much divided and people tend to specialise in one discipline and are often afraid of crossing boundaries because they are so well identified in one genre.

KL: This is partly also linked to resources. If for example you run a theatre company, you are the person who does the theatre direction but because the resources are not there you also you are also called upon to write the texts for the marketing materials, to be the person being the contractor for the building. The lack of concrete support from the industry results in one individual having many activities. In my opinion this is a good training.

SS: I agree because every discipline can also inspire another. Singapour mon amour is an attempt to outline a different portrait of this country and to illustrate its complexity and also the emergence of alternative visions and artistic movements. In this regards I am very much interested in exploring what it means to be independent in Singapore? We already talked about it a bit and you are one of rare people I know who are truly independent. Your store is not funded by public money for example and I have a lot of admiration for this. Would you like to share thoughts on this experience?

KL: Independent is a word that has to be used carefully, it is thrown around too much sometimes where if you are a small entity or you are an artist on your own or if you are running your own studio you are independent, and I think that can be a very tricky sort of imagery and connotation for whoever is doing it. For me there is one strict criteria when it comes to independence: independence means no government money. There are only two categories I can split into: are you a non-profit or a for-profit business? If you are non-profit and you are still independent, meaning you are not funded by a bank but you are given a certain amount of money from the state council, for example the National Arts Council, you can still be fairly independent, especially based on your founding philosophy. One very good example would be The Substation. They are funded by National Arts Council and private donations but they try to be as independent as possible in terms of their programming. Sometimes they will get a wrap on their hands for doing certain things that are a bit on the fringe but that is what they are founded upon. The Substation has always been a home for the arts on the fringe. A lot of people say that this makes them independent, and I think the same, even though they got the government money, because of their philosophy. They have a single mindset of how they want to present the arts and they do it. They won't always present you the pleasant and beautiful things, they will present you with art that encompasses everything. Art is supposed to make you question, to make you uncomfortable for a while and that's what The Substation seeks to do.

But if you are a for-profit business and you take a lot of government funding and you still come to me and say that you are independent, for me that is questionable. In any part of the world, as long as you take money from your own government... If I am the government, I will tell you that I run a country of now almost 5 million and in France there are so much more people. If I give you the money I will expect that the money is used to a certain extent and that the content that is produced can be beneficial for as many people as possible. To use a very crude word, to get the biggest bang out of all the money that I gave you. The fact that Singapore arts has only 50 years means that we have even less years of art history which means that they are even more focused on getting the most out of the money. We don't have a cultural art history like in Europe or in the US. It takes a lot of time to build that up.

When you take money from the government it sets certain parameters, you can do a, b, c, d, but you cannot do e, f, g. I think for the artists and organisations that have taken that funding, they have to understand that it is as it is. If you want to work outside these parameters then you can't take it. To me that comes to the question are you independent or not. You cannot tell me you are independent if you are for-profit business and you still take public funding.

I remember a conversation with Enoch Ng who is running Firstfruits Publishing and who is the one who first spotted and published Cyril Wong's first book. He is no longer active now but when he was, I was talking to him and told him that we are now running a bookstore and that we are selling all books of Firstfruits. I asked him what would happen if one day I would like to publish also? This was in the second year of our business. His first advice to me was to not be like him and not to take any funding, because he said when he took funding there were certain books that he could not publish. He needed to make sure that the content was censored. That clicked something in me, he is a for-profit publisher, I am a for-profit bookstore and now a publisher and if I do not want my artistic integrity to be compromised, I don't take the funding. And the fact that I am a for-profit means that I have already approached this game to make money. And if I approach this game to make money, all the more I should figure is how to keep it alive. And that is for me sometimes my definition of independence. There is nobody to be accountable to other than yourself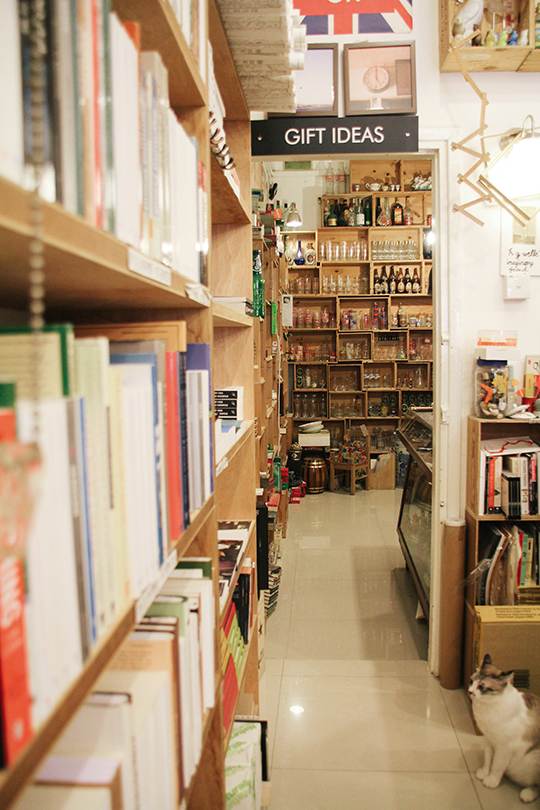 Gift ideas and an attentive BooksActually cat, Singapore, 2014 © BooksActually


SS: I totally agree and Lowave's understanding of independence is pretty much the same. We accepted public funding to partly cover the production costs of our publications and film productions but we never had to face any censorship or control of what we were going to publish. I also believe that if you really aspire to be independent it is the only way to do and this wherever you are, in Singapore or elsewhere.

Beside your publishing activities and the bookshop you are also the initiator and a partner of other projects such as the Art Book Fair, the Design Film Festival, Bangkok Book Festival and many others. Are these activities linked to a desire to go more international? Or do you rather see your role as someone who can shape the local art scene by working with various art communities here?

KL: I am hungry for work and when I open the door of the bookstore I welcome everybody. I welcome the chicken rice seller to step in the bookstore and there is always a book, if you are 8 or 80 years old, – as long as you have the ability to read English, there will be a book for you. It doesn't matter what age you are, it doesn't matter what profession you might be and I will always have a book there that I think is interesting enough to appeal to you. So that's how we run the bookstore. And we are of course focused on Singapore but at the same time if I would open my door to Singapore it is as if I would open it to anybody in the world. And if I could reach out to as many people as possible through the publishing... I have no desire to open bookstores in every other city, unless I can clone myself, then yes. If I could clone myself exactly, how I do things, then yes... (laughter), but otherwise it will be just one single store.

Through the publishing there is a way to reach out. If I could translate a Singaporean book into French and Japanese and I could get them into the market and sell them there, I am reaching out. I think that is more what we are looking at for the moment. New ways of reaching out. And doing various activities... People asked why we did Singapore Art Book Fair as BooksActually specialises a lot in fiction and literature and art books are not our strongest part. And some say this should be something to be organised by Basheer Graphic Books or even Page1 because they are the art books specialists. I say no harm doing something that is still book related but you can reach out to more and many different people. And during the art book fair last year we had individuals who do calligraphy, printers who do a lot of art book printing, Nguan was there, he is a photographer and we finally published his book on that occasion. And when all this comes together it's again idea forming. When doing all these things you get to know new people or you get to reinforce the relationship that you have initially and many more things happen from there. Design Film Festival is because we know the folks around it and we always had an interest in film as well.

SS: And there is also your online bookshop that allows you to reach out worldwide! Have you ever considered e-publising as well?

KL: Yes, it's a natural progression. People say that we are delayed in the game but we decided not to jump the game as I think that for at least Singapore alone e-publishing has not taken off at all. A lot of the publishers and media companies were all jumping on it and now a lot of them have to troubleshoot. There will be people who want to read in the published and e-published format. I am one of those booksellers who is very okay with a ebook and a print book in the context where I am both a publisher and a seller and I take Singapore as the context. In Singapore we don't have enough readers. If you are in France in a place where you are eating you most probably will see someone who is reading, at least one person would be reading a newspaper or a book. In Singapore we don't really have that. Our culture is not as ingrained as a lot of other places. But if sitting inside that kopitiam we have two individuals who are reading on a kindle then I say, wow, that's fantastic because their behaviour is towards reading and not on their smartphone playing a game or on facebook but actually reading. And the culture comes from the behaviour. If two individuals read, then there is a chance that two years later there might be four individuals reading. I think it's a game of possibilities and it's a bit like culture, you have to put it there in place and the fact that Singapore does not have enough bookstores... We need more bookstores and if the bookstores are not fast enough, ebooks are an alternative to make reading accessible to the people.

SS: Singapour mon amour is the title of this project. Could you also write your own love story on this country? Maybe a complex one, like the one I try to write?

KL: Definitively! Me and my friend Cyril Wong and sometimes Jason Wee hang out here at the coffee shop at least once a week and we joke about our first SG50. Assuming that we don't screw up too much, we should live to SG100 with life expectancy increasing, me and my friends should be lucky enough to see SG100. We were joking and talking about it and I said that at this stage I am happy staying here, living here despite the crazy challenges. One of the biggest challenges is the bookstore we shifted 4 times, constantly increasing rents, currently 9000 SGD per month. So there are a lot of challenges but I really enjoy this environment. That's the love story I guess. A love and hate story sometimes of this country and we have the 50 year mark. Assuming that we live another 50 years to reach SG100 we will be able to see hopefully changes for the good. Growth in terms of culture and corrector, not necessary economic. I think we look forward to see that growth in culture and to reach the SG100 and tell ourselves that the arts have been growing for the last 20 years, so by then it would be 70 years and that would mean a lot to us. And I want to be there to see that.

SS: Me too, I hope I'll sit there with you in the kopitiam...

KL: Yes! We can call this our last dance... (laughter).

SS: I am looking forward to that! Thank you Kenny for this inspiring conversation and all the best for BooksActually and especially your goal to own your own store in a near future! See you soon in the bookstore.