◀ PERFORMANCE ▶
REVERBERATIONS: MEETING PASCAL BATTUS
PASCAL BATTUS AND MICKAËL ROBERT-GONÇALVES

Paris, September 2015

Interview with musician Pascal Battus, on the performance You are what I don't want to be, performed with Ezzam Rahman at Église Saint-Merry in Paris on 7 June 2015.

Mickaël Robert-Gonçalves: Your music can be defined as experimental but this term probably does not describe exactly the way you compose music. Can you explain how you create your "instruments" and how you use them?

Pascal Battus: It wasn't a composition but a real improvisation, nothing was predetermined. This allowed a stronger interaction with Ezzam Rahman. For this performance, my instruments were guitar microphones recording the sounds produced by various metal objects.

MRG: The aim of the performances shown in Singapour mon amour was to create a dialogue between French and Singaporean perceptions, conceptions and also disciplines. Was it the first time that you were working with a performer like Ezzam?

PB: I have already worked with performers but it is always new, like it was with Ezzam! Each artist has his own language, and the place of the performance is also really important for the process.

MRG: How can you describe the dialogue between you and Ezzam?

PB: Everything was based on looking and listening. Ezzam was supposed to circulate in the space in a more or less predefined way, but he was really attentive to my sound propositions and I was always looking at him during his movements, trying to be influenced by his gestures and actions.

MRG: Ezzam's performance is physically really strong but, as you just said, the concentration on the movements was perceptible and intense. By the way, you were also quite mobile yourself, in regard to the movements and the duration of the performance. Is this something common in your work?

PB: No, it depends. I can stay only at my table, but sometimes, depending on the space and the kind of relationship that develops during the improvisation, I have to move and intervene.

MRG: The performance with Ezzam happened in a specific location, the Saint-Merry church, an impressive Gothic church in the centre of Paris. Has the space changed your way of performing? And what about your impressions during the performance?

PB: Yes, it's something to take into account, but it's modifying my performance in an indirect way because it's a space so full of meanings that I preferred – after we had chosen the exact place to perform inside the church – to leave the audience to create connections between what we were doing and the architecture, and without insisting. However, the reverberating acoustics was a really important element for me.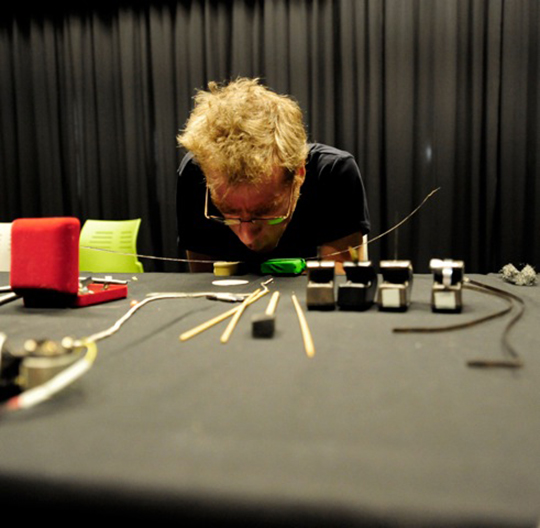 Pascal Battus at work, Paris, 2014