VISUAL ARTS ▶
POLITICS AND
POETICS OF SPACE(S)
SILKE SCHMICKL

The exhibition Politics and Poetics of Space(s) presents a selection of works by eight contemporary artists who dedicate their artistic research to exploring social and urban developments in Singapore. Being in their early or mid-careers the chosen artists share a common interest for the representation of real or imaginary spaces in a country where space is limited and therefore a hot topic. The main island of the Singaporean archipelago measures 719,1 km2 today and land reclamation projects since the 1960s have increased the country's land area constantly and considerably1. In such a context it is not surprising that territorial interests are meticulously administrated by state entities such as the Singapore Land Authority (SLA), a statutory board under the Ministry of Law whose mission is "to optimise land resources for the economic and social development of Singapore"2. The urbanistic activities of the board range from economic, to ecological, social, and educational mapping and planning, and even art projects might be included, such as the creation of "new creative spaces in Singapore" where specific zones dedicated to art might be designated3. Progress is one of the credos, a key word perceptible in other domains of Singapore's development, and that of neighbouring countries. Progress – a strategy, a concept, a philosophy, at least a vision. Towards what? - One might ask.

Hand in hand with the idea of incessant progression comes a representational image of the lion city which is generally mediatised as one of Asia's most powerful and modern metropolis. Spectacular architectures such as Marina Bay Sands, Reflections at Keppel Bay and The Interlace, imagined and built by international star architects, define the Singaporean cityscape, alongside equally interesting Housing Development Board (HDB) architectures and well restored old shophouses. If this image is for large parts justified, it excludes however another facet of Singapore's urban reality which interests us in this exhibition. By turning their gaze away from these prevalent representations and by looking at the peripheries, alternative or fictive spaces, the artists present the viewer with unseen or neglected parts of the city. Singapore seems to function here at a slower pace which gives the viewer room for critical reflexion.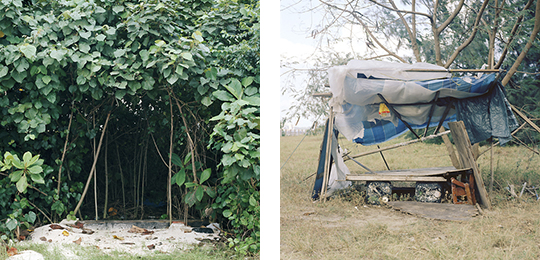 Chye Teck Chua, Paradise, 2006-2014


Chye Teck Chua's photography series Paradise, developed between 2006 and 2014 is composed of 36 images taken in a park in Punggol, the North East of the island, where the artist used to spend time as a teenager. It is an attempt to recollect memories of a place that has dramatically changed due to land reclamation and property business initiatives. The ancient prosperous rural area has been transformed into a westernised satellite town, where beaches and forests have had to give way to lucrative state developments. A lost paradise that the artist examines by establishing a fascinating typology of parallel constructions undertaken by strangers. The series captures ephemeral installations built out of found natural and constructed materials such as canvasses, card boxes, old furniture, corrugated metal, tree trunks and stones. Other than their sole function of protecting and sheltering human beings they are useless in a monetary sense and illegal according to the law. Looking at these systematically recorded images, one can't help but speculate on their use and to unconsciously draw a parallel with similar improvised constructions known from refugee camps or other precarious housing situations. Chye Teck Chua's initial training as a sculpture is perceptible in the way he captures the sculptural quality of his photographic objects. Against the trend of overproduction he decided in 2000 to shift from making objects to documenting objects he finds on his way through photography. The considerable time he spends in observing, establishing and organising such visual typological collections is remarkable and a way of resisting the predominant trend of rapid progression.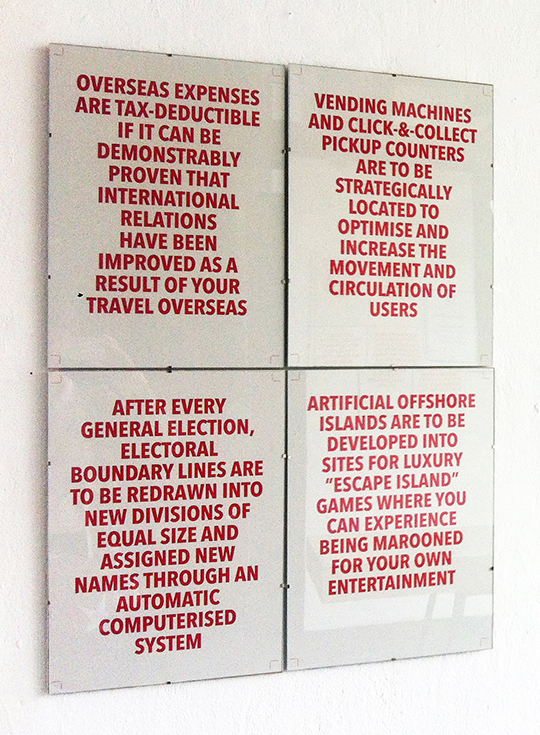 Debbie Ding, Rules for the Expression of Architectural Desires (excerpts), 2015


Debbie Ding's Rules for the Expression of Architectural Desires (excerpts) (2015) present the viewer with another typology, composed here of 12 visual, short written texts. Inspired by real facts yet fictional, the artist comments on a series of social and urban phenomena dealing with topics such as national service, education, general elections and urban transformation. The risograph prints with red letters on white A3 sized paper – perhaps a loose allusion to the colours of the Singaporean flag –, appear like instructional posters that could be pinned on various walls of the city. An ironic undertone underlays each of these rules which furthermore evoke the language of a government's mission statement: "A special heritage zone is designated for the reconstruction of former urban architectures. In all other areas, historic buildings do not need special permission to be demolished or altered." Or: "Compulsory two-year national interment service must be posthumously served by all citizens and permanent residents within municipal cemeteries." – an instruction that caricatures the compulsory national service for male citizens until the age of 40, a much discussed topic in Singapore since the National Service Riots of 19544. The well crafted time-space relationship inherent in all these texts confers them an almost cinematographic dimension. They can be read as speculative scripts, schemes, devices and instruments for the urban and social design of a city and underline, according to the artist, that the "material of a city is immaterial at its very core5."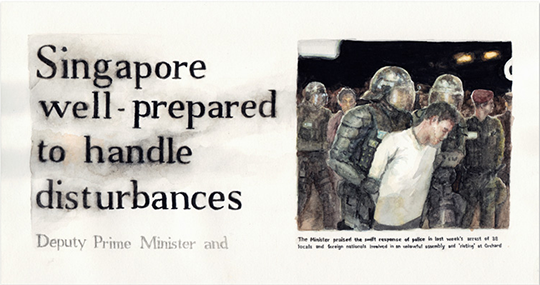 Godwin Koay, Notes from a Revolution (excerpts), 2012-2015


Speculation is also in the centre of Godwin Koay's ongoing water colour series Notes from a revolution (excerpts) that commenced in 2012. His delicate drawings imagine a politicised Singapore, scenes of demonstrations, burning flags, police task force, clippings from newspaper headlines. Executed with remarkable skills, these fictive notes – some figurative, some textual or the association of both –, are presented horizontally on small sized papers that could have been extracted from the artist's sketchbook. Like many revolutionary ideas that were first formulated in personal notebooks, these drawings deploy their subversive potential when having a closer look and in association with each other. The blurring of real and fictional facts creates, like in Debbie Ding's Rules, an intriguing dialectic discourse which is furthermore stressed by the borrowing of visuals from press clippings, notably The Straits Times, and social media platforms such as Instagram, Facebook or YouTube – effective tools for the initiation of recent riots and revolutions in Iran, Egypt, Tunisia and also Taiwan and Hong Kong. The consideration of various media renders the idea of strategic interpretations of reality and their final transfer in an almost anachronic medium - the watercolour - makes this even more explicit. The city appears therefore not only as a stage for political power but also that of the media which has become an influential organ in the representation, interpretation and projection of spaces.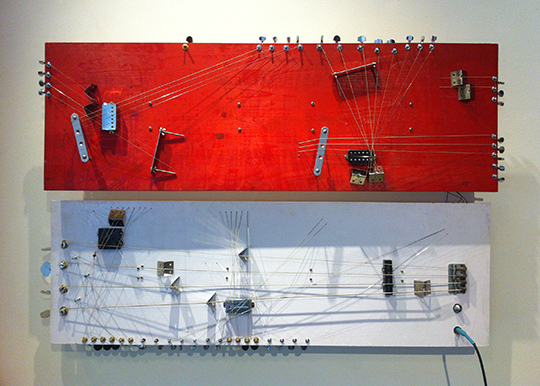 Bani Haykal, "The Americans have colonised our subconscious", 2014


Like Godwin Koay, Bani Haykal is also interested in power systems, their formation, functioning and articulation. The ultimate idea of a state's sovereignty is represented in its flag, an inalterable symbol that gently reminds its citizens that they are part of a national system, imagined and ruled by a government in place. Bani Haykal's "The Americans have colonised our subconscious" (2014) challenges this symbol in an unconventional and daring way. Electric guitar and bass pickups, machine heads, an electric bass string bridge, instrument strings and various hardware elements are mounted in a seemingly chaotic way on two wooden planks painted in red and white, which freely allude to the Singaporean flag. If almost all the elements of a classical stringed instrument are there, the assemblage does not fit the norm and the eccentric musical instrument rather evokes the spirit of punk rock or free improvisation. The spectators are invited to play and experience another national anthem where discordance and cacophony are augmented by an electric amplifier plugged into the flag. A certain malaise that results from this disorientating proposition is further stressed by the title of the work, which suggests that the national integrity might be subconsciously influenced and even colonized by another. Borrowed from a quote of one of Wim Wender's movie characters in Kings of the Road (1976)6, the statements refers here not directly to cinematographic arts but to culture and a people's psyche in general.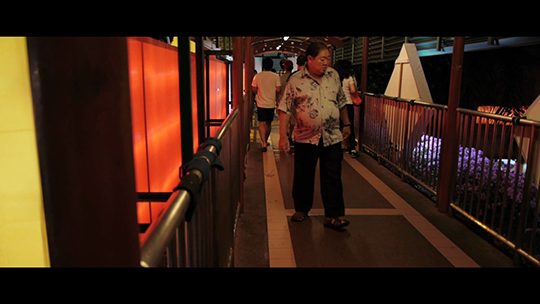 Nelson Yeo, Chinatown. Electric Soul #01, 2013


The psychological state of the country is also examined in Chinatown. Electric soul #01 (2013) a hypnotising short video work by Nelson Yeo. Originally shot as a mood piece for a character for a future feature film, Chinatown takes us to one of Singapore's most visited neighbourhoods. Known as an area where people go out for food and entertainment, the artist surprises us with an unexpected vision of this place. Filmed in a documentary style without altering reality – beside occasional slow motion effects – the characters appear alienated and lonesome. Their movements are robotized and their gazes look at us as if they are seeking for an answer or a conforting smile. Reflectiveness speaks out of their eyes, mirrored by the electric lights of lampions and headlights. Reality interfuses with fiction and dreams in this stream of cinematographic unconsciousness underlined by the waved sounds of electronic pipe instruments. What room is given to the individuum for self-fulfilment in this society? What nourishes the electric soul? A clear answer it does not give yet the work leaves us with a strong impression of the poetic strangeness of the depicted place.






Ruyi Wong, Temple Series, 2015


Ruyi Wong's Temple Series work (2015), composed of five small square granite tiles also questions the place of the human being in an urban environment. The artist transferred a black and white portrait of her body onto the granite. In the centre piece the spectator is confronted with her face propped on her elbows in a musing pose. On the left and right side her upper body and then another frame of her kneeling pose are repeated in a symmetrical and horizontal manner. The undressed body is fragmented and crashed by the stone, its softness meeting the harshness of an urban reality. Ruyi Wong's ongoing experimentations with materials in this Temple Series confer a new status to the photographic image. Whether some results associate her body with fragile, organic and changing materials such as wax or soap, others, like the work presented here, stress fragility through contrast. All of them highlight the impermanence of human beings and question the particularly fragile position of women. Similar to Nelson Yeo's mood piece, reality is here transposed into a contemplative and delicate form of poetry.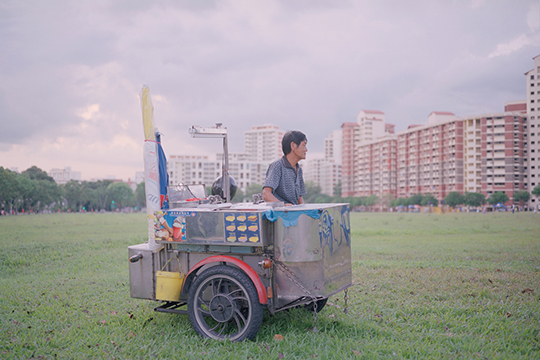 Nguan, Singapore, 2012


Poetry is also one of the leitmotifs in photographers Philipp Aldrup's and Nguan's body of works. Nguan's large sized photography Untitled from the series Singapore (2012) shows an independent ice-cream seller who is positioned in the midst of a green field surrounded by trees and HDB blocks. These unoccupied fields, used occasionally for religious, social or political events, were one of the features of Singapore's cityscape before the feverish urbanisation started. Rarely seen nowadays, as well as the activity of ambulant ice-cream sellers, the image emanates a melancholic atmosphere that culminates in the seller's pensive gaze. The image appears as a temporal and spatial threshold, a passage between the old and the new. Like in many others images of this series, Nguan captures a fragile moment, where the human being is left to his or her own resources, despite the surrounding social activities. The alienation of the everyday results from the isolation of these figures and the impression that they are unobserved. Even though Nguan's photography captures urban curiosities and sometimes intimate scenes, it has nothing voyeuristic but recalls the acute tradition of 20th century flâneur photography7.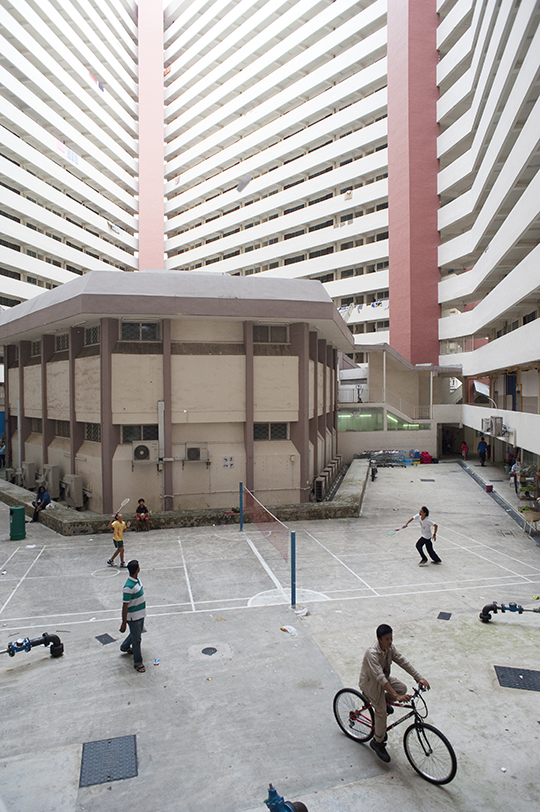 Philipp Aldrup, The Diamond, 2012


Philipp Aldrup's images also testify of the gaze of a silent observer. Yet unlike Nguan's Singapore series whose primary interest is the exploration of the decisive moment of the photographic medium, Philipp Aldrup's main foci are architecture and neglected urban landscapes which are examined in detail and over a long period of time. His large sized archival pigment prints of The Diamond (2012) and Rochor Centre (2011) depict two iconic HDB buildings and are part of an extensive series dedicated to these colourful architectural landmarks of Singapore's town history. If the Diamond, a well-known site for difficult social living conditions situated in the West barely escaped demolition, Rochor Centre's destiny of disappearance is now sealed. With its demolition another social housing estate in the central area will have to give way to new speculative construction schemes and will therefore represent an important loss of visual memories for the residents. The artist documents these important transformations, inscribes them in a bigger notion of time, and simultaneously captures the fleeting poetry that can be found in these social environments. Playing children, cyclists and passengers animate these images and introduce a human and poetic tone that contrasts with the rigorously planned and structured architectures.

All of the artists of Politics and Poetics of Space(s) share a common interest in reflecting differently on Singapore's urban and cultural history and the associated social transformations. The predominant vision of progress, growth and economical development is here critically examined through a variety of media and individual approaches. By privileging an empirical artistic research, by introducing various layers of reflexion and personal angles, they complexify the overall picture and offer an alternative reading of events. These readings include aspirations and desires for the future of a country they care about. The notion of heritage gains only slowly in importance and this partly explains why numerous artists have taken the responsibility to preserve, classify and analyse Singapore's urban imagery. The fact that all of these works are developed in series, over an important period of time, often still in progress, constitutes another subtle link between the works. They resist the rapid pace of change, (over)productivity and commercial efficiency, and illustrate another handling of time which gives room to observation, if necessary adjustments, and critical reflexion within the creative process itself. These conditions allow the inclusion of not only a cognitive appropriation of the examined subject matter but also a sensitive approach which is an essential vector for intelligence in the field of artistic creation.
---
1. Figures published on Singapore Land Authority's website in June 2015, http://www.sla.gov.sg. The evolution of the land reclamation progress can be retraced in this report, in 2003 for example, the total land area was 692,8 km2.
2. Mission statement of SLA on http://www.sla.gov.sg.
3. A recent example would be a street art section that was created beneath a viaduct structure along a rail corridor. Idem, annual report 2013/14.
4. More information on the National Service Riots can be found on Singapore Infopedia, hosted on National Library's website: http://eresources.nlb.gov.sg/infopedia/articles/SIP_1202_2006-07-28.html
5. Conversation with Debbie Ding.
6. In Wenders' film the quote alludes to how in Germany one way of remembering and forgetting fascism has been an involvement with other cultures. See William J.V. Neill, Urban Planning and Cultural Identity, 2004, p. 36
7. The most notable application of flâneur to street photography probably comes from Susan Sontag in her 1977 essay, On Photography. She describes how, since the development of hand-held cameras in the early 20th century, the camera has become the tool of the flâneur: "The photographer is an armed version of the solitary walker reconnoitring, stalking, cruising the urban inferno, the voyeuristic stroller who discovers the city as a landscape of voluptuous extremes. Adept of the joys of watching, connoisseur of empathy, the flâneur finds the world 'picturesque.'" (p. 55)