◀ VISUAL ARTS ▶
AN AFTERNOON WITH
SOOKOON ANG
SOOKOON ANG AND JEREMY CHUA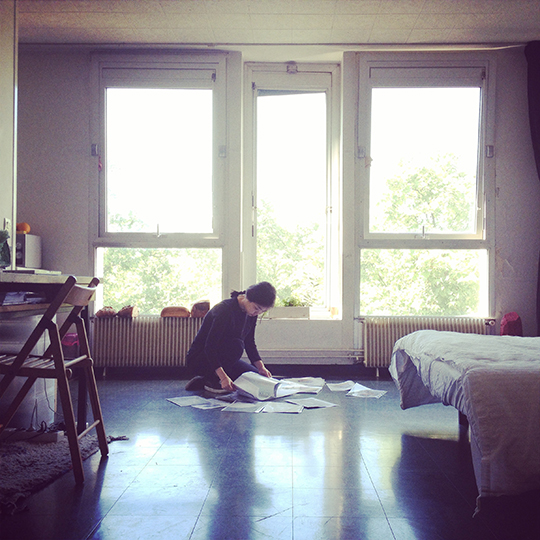 Sookoon Ang in her studio at Cité des Arts, Paris, 2015
Paris, May 2015

I first saw Sookoon Ang's short films Mosquitoes and Xiao Fu at the Singapore International Film Festival in 2009. Romantic yet melancholic, whimsical yet gracefully minimal, I was drawn to the rare, un-calculated mnemonic quality of her work. How they unconsciously captured an essence of a bygone world, a childhood in the late 1980s and 1990s that exists only as déjà vu; so unfamiliar in contemporary times it may or may not have even occurred. Since then, I have discovered several gems in her multidisciplinary body of work: like the drawings of her video number series 1 to 9 and the fantasy artwork of Say Hi to Forever, where she confronts nostalgia with darker subjects such as doubt, anxiety and existentialism, almost romanticizing the transience of innocence and false optimism of adolescence.

This year, Sookoon Ang became the first recipient of the Lohia Mentorship Series awarded by Platform Projects and a bronze sculpture from her series Your Love is Like A Chunk of Gold will be installed in the gardens of the Gillman Barracks to celebrate the third anniversary of the art village.

Paris, May 2015. It is a quiet afternoon in her apartment at Cité des Arts where she lives with her husband and sculptor, Vincent Olinet. The couple just purchased a studio space in Bagnolet where Vincent was in the midst of constructing wooden carriages for an upcoming show in Toulouse. We took a metro to her studio and on the way, we talked about the evolution of her work and future projects for the Paris-based artist.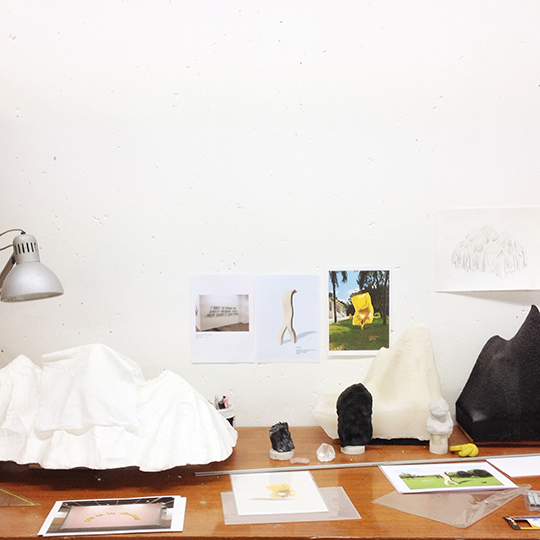 Sookoon Ang's working desk, Paris, 2015




Jeremy Chua: Sookoon, Your Love is Like a Chunk of Gold deals with an artistic and scientific process of harvesting crystals and hosting them in bread. How did this idea come about?

Sookoon Ang: I am interested to combine unlikely materials together in my work to create any sort of uncanny juxtapositions. Several years ago, I started experimenting with homegrown crystals. The challenge was to test by trial and error what sort of chemical compounds are suitable to grow large enough crystals to create an artwork with. Then after experimenting with different host objects, marrying bread with crystals seemed like the most ideal choice. I like how most people do not recognize the bread once I embed the crystals. It looks like a science-fiction object. Yet, its appearance is quite paradoxical.

JC: Speaking of paradox, what about the title? A chunk of gold is not exactly something very romantic.

SA: The title came from the lyrics of a Bill Withers song. It goes Your love is like a chunk of gold, hard to gain, hard to hold. I associated the work to this title precisely because of this irony. Love is tender and beautiful, but it can also be cruel and painful. In crystals, they appear very precious and elegant, but the sharp edges can also pierce your skin. Hence the title.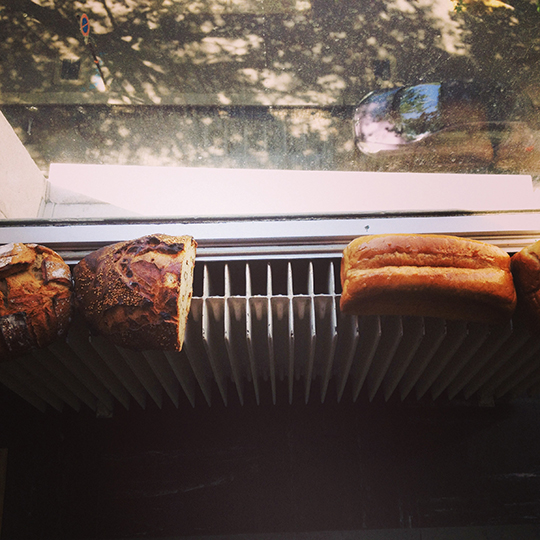 Bread drying for Your love is like a chunk of gold, Paris, 2015


JC: You're now installed in Paris for the last few months, how has the process of working in between cities for your new sculpture verb??

SA: Paris is very inspiring and we are lucky to have a living space at Cité des Arts which is in the heart of the city. I have been working on some new ideas and meeting different types of artists. For production, I have been working with a foundry in China. They have an amazing team but it was difficult not being there all the time to keep an eye on each step of the process. We communicate regularly to do experiments with production methods and so it's been trial and error.

JC: What were your ideas/intentions when you decided to make it into a large sculpture for Gillman Barracks?

SA: Normally, the size of the work is small, dependent on the loaf of bread. However, for this installation, we are going to produce something ornamental and one that can withstand the weather and elements. It is important that a public sculpture works with or even complement its surrounding. I envision that Your Love is Like A Chunk of Gold will work well to offset the utilitarian former military buildings of Gillman Barracks with an eerie fragility.

JC: We have arrived at your new studio and it's really spacious! Look at all these vintage carriages too!

SA: Yes, Vincent is currently in production for a show so he's using most of the space.

JC: I see that on your desk, there is a white model sculpture that resembles a mountain-scape. What is this about?

SA: This is a prototype sculpture made in wax. It's an idea I'm working on that departs from my past works. I am designing a way for the mountain to appear to be floating like an apparition. I am presently interested in interweaving representation and abstraction as well as composition and narrative. The sculpture to me is that. It resembles something and nothing at the same time.

JC: You spent most of your artistic career abroad in different cities. How do you think those different experiences have shaped your current work?

SA: These experiences shaped my character which consequentially affect my work. But I do not know in what specific way. Since I'm still in the midst of it, I don't have an objective perspective.

JC: As a Singaporean artist living abroad who is still active in the local scene, you have a different perspective of looking in from the outside. What are your thoughts of the young artists in Singapore?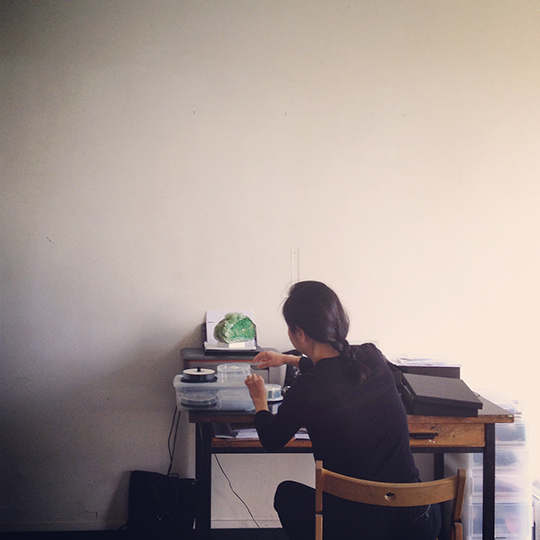 Sookoon Ang at work, Paris, 2015




SA: Young artists in Singapore now have way more opportunities now. They are proactive and more savvy on how to create a more prolific presence in the art scene. These can be advantages and disadvantages. The advantages are clear. Greater and faster opportunities, income and even recognition for their work. The disadvantages are that that savviness or worldliness is a sort of loss of naivety, it also disallows young artists to spend the time and chance to experiment in their work. There is a pressure to mature fast artistically. Artists can't all graduate from art school with an already serious body of work.

JC: That's great insight. How do you keep in touch with the Singaporean art scene? And what role does your gallery play in your work locally and overseas?

SA: I really love having exhibitions in Singapore and try to show as much as I can. But not every art establishment in Singapore is interested in my work (I cannot fathom why)! What I learnt from the start of my practice is not to put all my eggs in one basket. I get it that not everyone dig what I do and it's all the more harder in such a small place like Singapore, so I have to go out and find people who do. Back to your question, when I'm back in Singapore, I'd meet up with friends I have in the arts who are not a lot but we can't be friends with everyone.

JC: That's true. But who are some Singaporean artists you look out for or wish to work with?

SA: Chun Kaiqun, Chun Kaifeng and Joo Choonlin are doing very interesting work. Kaifeng makes well-composed and finished objects that are once at familiar but aloof, cold even.
Kaiqun is experimental and willing to take risks. Choolin's work is quirky and nonconforming. I can't work with other artists. Never like listening or accepting other people's opinions in what I can or cannot do. Ask my mother.

JC: Haha! Finally, what is your imagination of the Singaporean artistic scene in ten years time?

SA: What I imagine is not the same as what I hope. I prefer to say what I hope because it doesn't have to be grounded to reality. What I hope is more alternative art spaces with passionate independent young curators taking helms for diverse artistic experiences. Existing institutions that have strong ties with local artists from the grassroots like The Substation or Objectifs gain the influence and strength to wholly support ambitious and experimental works; sort of like the different Kunsthalle in Germany and large, well-endowed privately funded institutions or museums putting up dynamic international exhibitions that are not constrained by mainstream policies, something like the Wit de Wit in Rotterdam. These will really make Singapore art scene interesting and change the way Singapore artists make art.

JC: Thank you Sookoon, for a great afternoon and chat! See you soon in Singapore for your opening in September!

SA: See you soon!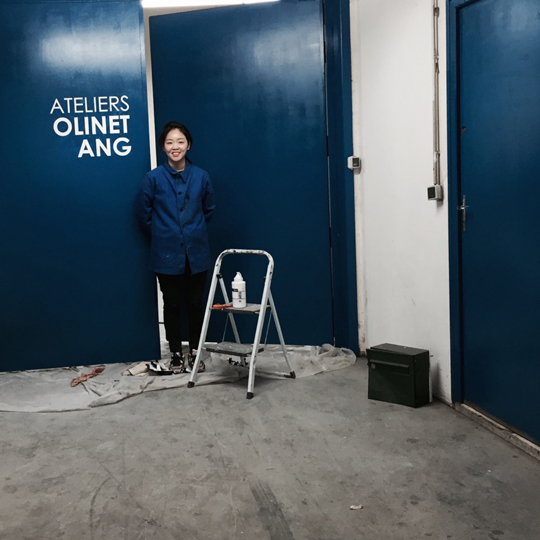 Sookoon Ang in front of Ateliers Olinet Ang, Bagnolet, 2015