TO NAVIGATION
Events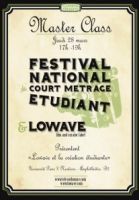 Lowave partners with the Festival National du court-métrage étudiant 2013 and offers a selection of films created by students Metronomic & Co. et Human Frames. The screening is moderated by Mickaël Robert-Gonçalves.
@ Université Paris Ouest Nanterre La Défense, Amphithéâtre B2, 200 avenue de la République, Nanterre, France
For over 10 years, Lowave has promoted the creation of video and contemporary art through over 60 DVD publications, or exhibitions, conferences and other events.
Since its inception, Lowave advocates the exhibition of inaccessible work and the valuation of student and graduation work realized by young artists. Under these conditions, a part of the Lowave video collection is enriched by many 'firsts' original creations.
This screening/meeting will present several works from the Metronomic & Co. French Animated Shorts # 1 DVD, one of the most famous Lowave titles, consisting mainly of films made by students of ENSAD (Ecole nationale supérieur des Arts Décoratifs). Several films from the latest project, Human Frames, will also be presented where a discussion of the process of creation, diffusion and reflection of emerging scenes within Lowave will begin.
From the movie Mr. Moth Arnaud Delord, also present in Human Frames, latest publication Lowave, and a selection of films from the last project will be explained the process of creation, diffusion and reflection within Lowave in connection with this new creation.
Programme :
La révolution des crabes / Arthur de Pins / France / 2003 / 4'45 / 4:3
n the browny waters of Gironde estuary, between the rocks repainted with fuel and the muddy sand that provides a home for the best oysters in the world, noone is aware of the tragedy that has pervaded us for the last one hundred an twenty million years. We are the Pachygrapsus Mormatus, commonly known as "depressed crabs".
Donky Toys / Olivier Le Fou / France / 2005 / 3'45 / 4:3
In an underground carpark, a Porsche 365 begins to chase a Ford Galaxy.
Du soir au matin / Mathieu Agnus / France / 2001 / 8' / 4:3
In life, sometimes, eccentric ideas cross your mind...
Mr Moth / Arnaud Delord / France / 2002/ 9' / 4:3
Mr Moth illuminates the memories of a young boy who tormented insects in his childhood and was warned by Miss Marple that he would be snatched away by Mr Moth for his misdemeanours. The film derives its inspiration from the aesthetics of old black and white detective and horror films and, in the form of a skilful sound and image collage, illustrates the childlike state of fear.
A short film about laughter / Nuria Gomez Garrido & Denis D. Lüthi / Allemagne / 2007 / 10'11 / 4:3
Every two weeks the clowns visit the old people's home. A tragic and amusing interaction begins...
Stimme der Lücke / Sunjha Kim & Sion Jeong / Allemagne-Corée du Sud / 2009 / 6'06 / 16:9
While the blue light circulates in a closed room, various displaced sounds originating from a door bell, a mobile phone and a watch clock, enter the gap that exists between space and time. Light and sound alternate and finally fuse together in the gap.
Seeya in elektrik dreamz / Nelson Yeo / Singapour / 2011 / 20' / 16:9
Seeya in elektrik dreamz talks about a tale of four people confronting the end of the world. Based on a post apocalyptic set, the film portrays a different and foreign sight to Singapore local landscapes. A visually driven story that questions ourselves if time has lost its purpose and would one rather live on an alternative world.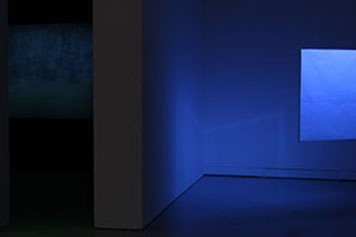 Past Events
2017
11/3 / Lowave sharing session / Visual Arts at Esplanade / Singapore
17/2 / Release of EARTH (OST) by FOUDRE! on vinyl / Gizeh Records / Manchester / UK
2016
26/11 / Liminal perceptions / KLEX – Kuala Lumpur Experimental Film, Video & Music Festival / Kuala Lumpur / Malaysia
21/8 / Presentation of Singapour mon amour / In the light of history: Visions of a nascent nation / Asian Film Archive / National Gallery Singapore / Singapore
10/2 / Lowave – Human Frames / Écrans Variables / Ciné Tambour / Rennes / France
2015
10/12-03/1/16 / Pop-up gallery Multiples / The Art Space / Suntec / Singapore
21/11 / Singapour mon amour publication launch / The Select Centre / The Arts House / Singapore
20/9 / Premiere of Nuit Blanche – Anna M'barek / Lichtspieltheater Odeon / Cologne / Germany
17/8 / Human Frames – Desire / Point Ephémère / Paris / France
17/6-12/7 / Singapour mon amour – Politics and Poetics of space(s) / Point Ephémère / Paris / France
7/6 / Singapour mon amour – Inter|actions [Ezzam Rahman vs Pascal Battus / Ho Tzu Nyen vs FROUDRE] / Les rendez-vous contemporains / Eglise St. Merry / Paris / France
6/6 / Singapour mon amour – Paroles aux artistes / Centre Georges Pompidou / Paris / France
5/6 / Singapour mon amour – Inter|actions [Urich Lau vs Teow Yue Han / Bani Haykal] / Les rendez-vous contemporains / Eglise St. Merry / Paris / France
04/06 Singapour mon amour – The emergence and vicissitudes of an art scene / Musée du quai Branly / Paris / France
12/5-20/6 Video programme for Biennale de Nord en Sud 2015 / Détours, retour / La Halle / Pont-en-Royans / France
24-25/4 & 1/5 Human Frames – Isolation & Mono no aware / 26. Ankara Film Festival / Ankara / Turkey
10/03 Focus Hélène Agofroy / Auditorium des Musées de Strasbourg / Strasbourg / France
24/01 Singapore by Singapore: from Myth to Neon Realism / Institute of Contemporary Arts / Singapore
2014
23/11 / The African time machine / KLEX – Kuala Lumpur Experimental Film & Video Festival / Kuala Lumpur / Malaysia
17/11 / Lowave screening / Le collectif Blast / Angers / France
14-16/11 / Lowave / REVI – Rencontres de l'édition vidéo indépendante / Paris / France
14-16/11 / Lowave / Singapore Art Book Fair 2014 / Singapore
9/11 / Malachi Farrell à l'œuvre - La Fabrication de « La Gégène » / Les Écrans Documentaires / Arcueil / France
18-21/9 / Video Projects: Body Politics / Beirut Art Fair / Beirut / Lebanon
15-28/9 / Hélène Agofroy - Arrangements / Saison Vidéo 2014 / www.saisonvideo.com / France
6/6 / Launch of L'art du montr(r)age de Jean-Jacques Lebel / Palais de Tokyo / Paris / France
5-7/6 / The African Time Machine / Video in progress festival - Kollektiva / Ljubljana / Slovenia
27/4 / Human Frames – Melancholy / Contemporary Art Platform / Kuwait
13/3 / Human Frames – Impermanence / Contemporary Art Platform / Kuwait
30/3 / Human Frames – Fear / Contemporary Art Platform / Kuwait
26/3 / Opening of Going Places / The Art House / Singapore
16/3 / Human Frames – Madness / Contemporary Art Platform / Kuwait
23/2 / Human Frames – Isolation / Contemporary Art Platform / Kuwait
15 & 23/2 / Lowave Curatorial Workshop / Grey Projects / Singapore
9/2 / Human Frames – Happiness / Contemporary Art Platform / Kuwait
2013
6-8/12 / Papier(s) - Art book fair / École des Beaux-Arts / Rennes / France
13/11 / Talk: La création vidéo en Inde / Dépendance/Indépendance: les cinémas de l'Inde / INHA / Paris / France
13/11 / Talk: La création vidéo en Inde / Dépendance/Indépendance: les cinémas de l'Inde / INHA / Paris / France
13/11 / Talk: La création vidéo en Inde / Dépendance/Indépendance: les cinémas de l'Inde / INHA / Paris / France
18/10 / IN/FLUX / Rencontres Ville Artistes Jeu et Enjeux / Théâtre Le-Maillon / Strasbourg / France
05/10 / Human Frames at Nuit Blanche 2013 / La Perle / Paris / France
27-28/09 / Human Frames Live / Société de Curiosité / Paris / France
26/09 / Encounter with Lowave / Potemkine / Paris / France
20/09 / Human Frames Live #03 Barbara Morgenstern v Melancholy & Impermanence / Cinesonic & Goethe Institut / Amsterdam / Netherlands
17-20/09 / Focus Lowave / Incubate Festival / Tilburg / Netherlands
17/09 / Human Frames - Desire / i.Boat / Bordeaux / France
17/09 / Mzansi Mixtape - a selection of IN/FLUX / Le Nouvel Odéon / Paris / France
30/08 / Human Frames (selection) / Festival ISI / Montpellier / France
23/07 / Human Frames - Animation / i.Boat / Bordeaux / France
02/07 / Human Frames - Anger / École supérieure d'art / Aix-en-Provence / France
26/06-18/07 / Exhibition La direction et l'orientation - Romain Kronenberg / Lowave / Paris / France
05/10 / Human Frames at Nuit Blanche 2013 / La Perle / Paris / France
27-28/09 / Human Frames Live / Société de Curiosité / Paris / France
26/09 / Lowave presentation / Potemkine / Paris / France
20/09 / Human Frames Live #03 Barbara Morgenstern v Melancholy & Impermanence / Cinesonic & Goethe Institut / Amsterdam / Netherlands
17-20/09 / Focus Lowave / Incubate Festival / Tilburg / Netherlands
17/09 / Human Frames - Desire / i.Boat / Bordeaux / France
17/09 / Mzansi Mixtape - a selection of IN/FLUX / Le Nouvel Odéon / Paris / France
30/08 / Human Frames (selection) / Festival ISI / Montpellier / France
23/07 / Human Frames - Animation / i.Boat / Bordeaux / France
5-26/06 / Gefühle Zeigen / Rotunde Bochum - C60 / Bochum / Germany
07/06 / Spring Sale / Lowave / Paris / France
31/05 / Human Frames Live 02: Hauschka v Mono no aware & Desire / Cinesonic & Goethe Institut / Amsterdam / Netherlands
18/04-12/05 / Exhibition Theo.do.lites / Institute of Contemporary Arts / Singapore
04-19/04 / Everyday Emotions: Human Frames / Alwan 338 Contemporary Art Festival / Al Riwaq Art Space / Bahrain
28/03 / Lowave screening and workshop / University Paris Ouest / Nanterre / France
13/03 / Arrangements - Hélène Agofroy / Centre Georges Pompidou / Paris / France
08/02 / Human Frames - EARTH - Tzu Nyen & Black to Comm' / Goethe Institut / Amsterdam / Netherlands
16/01 / Cinémas et art vidéo en Asie du Sud : état des lieux / INALCO / Paris / France
05/01 / Between Islands / Lowave / Paris / France
2012
14/12 / Christmas + Tombola Party / Lowave / Paris / France
11/12 / Human Frames - Fear / École des Beaux-Arts / Paris / France
07/12 / Encounters of Image and City / Negpos / Nîmes / France
25/10 / Ma mère, David et moi / House Arrests: Tales of the Hidden Inside / International Centre of Graphic Arts / Ljubljana / Slovenia
23/10 / City2City / Moving Frames Festival / Mytilene / Lesvos / Greece
13/07 / Human Frames Live / La Cinémathèque Française / Paris / France
28/06 / Presentation of Human Frames / Musée d'art Moderne de la Ville de Paris / Paris / France
13-17/06 / Human Frames Film Festival / Werkstatt der Kulturen / Berlin / Germany
12/06 / Presentation of Human Frames / ImageMovement / Berlin / Deutschland
08/06 / Shifting Realities / Experimental Film Forum / The Substation / Singapore
06/06 / Presentation of Human Frames / BooksActually / Singapore
04/06 / L'eau et les reflets du monde / Collège des Bernardins / Paris / France
30-31/05 / Resistance[s] III & IN/FLUX & Human Frames - Anger / Cineteca / Madrid / Spain
17/04 / Stylo/Caméra / Centre allemand d'histoire de l'art / Paris / France
15/04 / Paysages Sonores / Rendez-vous contemporains de Saint-Merry / Paris / France
03/04 / Lowave - 10 ans de visions urbaines / Le Nouveau Latina / Paris / France
29/03 / Dance Party ! Les films de Lowave ouvrent la danse / Le Cube / Issy-les-Moulineaux / France
22/03-02/04 / Rising Images / Cinéma du Réel / Centre Pompidou / Paris / France
8/03 / Lowave/Alter|Réalités present Conditioned and Re:Frame / Festival international du film des droits de l'homme / Le Nouveau Latina / Paris / France
2011
10/12 / Human Frames - Mono No Aware / Festival des Cinémas Différents et Expérimentaux de Paris / Les Voûtes / Paris / France
30/11 / A selection of urban Lowave films / Image de ville / Institut Français Valencia / Valencia / Spain
22/11 / A selection of Lowave videos / Les midis du documentaire sur l'art contemporain / Images Passages / Annecy / France
18/11 / Resistance[s] III / Les Instants Vidéo / La Friche Belle de Mai / Marseille / France
11/11 / Resistance[s] III and Videomappings: Aida, Palestine / B'chir Art Center / Tunis / Tunisia
8/11 / Felice Varini - 7 droites pour 5 triangles / Transat Vidéo / Médiathèque - Le Phénix / Colombelles / France
8-27/11 / Human Frames - Pain / Festival Video in Progress 4: Feelings of Distress / Ljubljana / Slovenia
21/10 / A selection of urban Lowave films / Biennale Image et Patrimoine / Nîmes / France
21/10 / Resistance[s] III / International Short Film Festival Cyprus / Limassol / Cyprus
13-16/10 / Felice Varini - 7 droites pour 5 triangles / Carte Blanche Annexia / Musée Saint-Raymond / Toulouse / France
10/10-30/11 / How Water / Platforme Wilson 38 / Paris / France
18/09 / Resistance[s] III / Rendez-vous contemporains de Saint- Merry / Paris / France
17/09-18/12 / Videomappings: Aida, Palestine / Le Bal / Paris / France
10/09 / Re:Frame / Asian Hot Shots / Berlin / Germany
03/09 / Resistance[s] III / Arab Filmfestival (Warm-Up party) / Berlin / Germany
30/08 / In/Flux / Festival de cinéma de Douarnenez / Douarnenez / France
30/06 / Resistance[s] III / Festival International du livre d'art & du film / Perpignan / France
18-19/06 / Blacklight / Pera Museum / Istanbul / Turkey
18/06 / In/Flux / Images & Views of Alternative Cinema / Nicosia / Cyprus
17/06 / Videomappings: Aida, Palestine / La Nuit vidéo c'est demain ! / Nancy / France
15-19/06 / In/Flux / Focus 11 - Art Basel / Basel / Switzerland
15/06 / In/Flux / Le Nouveau Latina / Paris / France
10/06 / Opening of Human Frames & Performance by Ho Tzu Nyen / KIT-Kunst-im-Tunnel / Düsseldorf / Germany
27/05 / Malachi Farell - La fabrication de "La Gégène" / Maison des Ensembles / Paris / France
21/04 / Cityscapes / Electron - Festival des cultures éléctroniques / Geneva / Switzerland
15-17/04 / Resistance[s] I-II / Alternative AudioVisual Event (AAVE) / Helsinki / Finland
24/03 / Lowave / Forum des Images - Bibliothèque du Cinéma François Truffaut / Paris / France
17-27/03 / Resistance[s] & In/Flux / Neues Kino & Performance Saga / Basel / Switzerland
17-27/03 / Resistance[s] I-III / International Film Festival Ankara / Ankara / Turkey
09/03 / Resistance[s] III / Sydney College of the Arts / Sydney / Australia
09/03 / Resistance[s] III / Squeaky Wheel / Buffalo NY / USA
11/03 / Videomappings: Aida, Palestine / Librairie du Palais de Tokyo / Paris / France
17-20/02 / Human Frames / The Substation / Singapore / Singapore
2010
01/12 / Resistance[s] III / Casa Àrabe & Madatac / Madrid, Spain
20/11-27/02 / Exhibition Reframing Reality / Museet for Samtidskunst / Roskilde, Denmark
18-19/11 / Resistance[s] II & III / Fondazione Mario Merz / Turino, Italy
14/11 / Vertical Cities / Image de Ville / Aix-en-Provence, France
30/10-07/11 / Exhibition I. Bahri & T. Prada & Conditioned & Resistance[s] III / ARTIST contemporary art fair / Istanbul, Turkey
29/10 / In/Flux / Museet for Samtidskunst / Roskilde, Denmark
20-24/10 / Human Frames / Asian Hot Shots / Berlin, Germany
16/10 / Re:Frame / Tramway / Glasgow, Scotland
09/07 / Sylt - The land where the ground shrinks / Librairie Histoire de l'Oeil / Marseille, France
08-09/07 / Lowave / FIDLab / FID / Marseille, France
15/06 / Resistance[s] III / Frik Festival / Stara Carsija / Skopje, Macedonia
14/06 / Conditioned / Frik Festival / Stara Carsija / Skopje, Macedonia
10/06 / City2City / Cerda Postmetropolis / CCCB / Barcelona, Spain
29/05 / Resistance[s] III / British Film Institute / London, UK
20-23/05 / Human Frames / Experimental Film Forum / The Substation / Singapore
14/05 / Conditioned / Museet for Samtidskunst / Roskilde, Denmark
14/05 / In/Flux / Du Bois Institute / Harvard, USA
13/05 / In/Flux / Axis Gallery / Brooklyn, USA
02/05 / Conditioned / Internationale Kurzfilmtage / Oberhausen, Allemagne
27/01-07/02 / Lowave / Break Even / International Film Festival / Rotterdam, Holland
30-31/01 / Lowave / Mo'Forum / Mains d'oeuvres / St. Ouen, France
14/01 / Resistance[s] III / Centre Georges Pompidou / Paris, France
2009
01-19/12 / Re:Frame / Le Cube / Espace Lounge / Issey-les- Moulineaux, France
27-29/11 / Resistance[s] I, Triny Prada & Before Vanishing / Marché d'art contemporain / Le Marin, Martinique
25/11 / Malachi Farrell. La fabrication de "La Gégène" / Images/ passages / Annecy, France
23-27/11 / Visions Urbaines & City2City / Bandjoun Station / Bandjoun, Cameroon
11/11 / Re:Frame / Instants Vidéo / Marseille, France
07/11-31/01/2010 / City2City / Musée d'art contemporain (Médiathèque) / Montreal, Canada
30/10-31/10 / Resistance[s] I et II / Salon des Amateurs Kunsthalle / Düsseldorf, Allemagne
01/10-09/10 / Experimental 3 / Ciné Nouveau & Festival Acqua Suito / Osaka, Japan
14-16/08 / Resistance[s] & Re:Frame (selection) / Litside Festival / Amsterdam, Holland
24/06 / Devil come to hell and stay where you belong / Anthology Film Archives / New York, USA
15/05 / Re:Frame / Museet for Samtidskunst / Roskilde, Dänemark
16-17/05 / Salon des cinémas hors circuits / Point Ephémère / Paris, France
24/04 / Carte blanche Lowave / Peniche Cinéma Le Baruda / Paris, France
05/04 / Devil come to hell and stay where you belong / Centre Pompidou / Paris, France
22/03 / City2City / Logement / Antwerp, Belgium
15/03 / Cosmogonies / Logement / Antwerp, Belgium
08/03 / Blacklight / Logement / Antwerp, Belgium
04/03 / Cinéma Different / Galerie Talmart / Paris, France
29/01 / Resistance[s] I & II / MidEast Cut / Det Danske Filminstitut / Copenhagen, Denmark
23-24/01 / Waël Noureddine / International Film Festival / Rotterdam, Holland
14-25/01 / Urban Visions & Resistance[s] I / Objeto Sim Projetos Culturais / Museu da Republica / Brasilia, Brazil
08/01 / Re:Frame / Centre Georges Pompidou / Paris, France
2008
18/11 / Helga Fanderl / Centre allemand d'histoire de l'art, Paris, France
08/11 / Malachi Farrell / Librairie Flammarion / Centre Georges Pompidou / Paris, France
29/10 / Mounir Fatmi / Les rencontres d'Averroes / Marseille, France
26/09 / Resistance[s] II / Kulturnatten / Hillerød, Denmark
06/09 - 15/11 / Resistance[s] I & II / Guangzhou Triennale / Guangzhou, Chine
15/05 / Resistance[s] II / Museet for Samtidskunst / Roskilde, Denmark
13-14/04 / Resistance[s] II / Werkstattkino / Munich, Germany
15-16/04 / Johanna Vaude - Hybride / Werkstattkino / Munich, Germany
15/04 / City2City / Centre Culturel Français / Timisoara, Romania
01/03 / Resistance[s] II & Hugo Verlinde - Cosmogonies / Cinémas Hors Circuits / Point Ephémere / Paris, France
2007
27/12 / Hugo Verlinde - Cosmogonies / Cinémathèque Française / Paris, France
10/11 / Resistance[s] II / Aurora / Norwich, UK
26-28/10 / Resistance[s], HC Gilje - Cityscapes, City2City / Shoot Me Festival / Einhoven, Holland
27/08-09/09 / City2City / Centre Culturel Français & Goethe Institut / Bandung, Yogakarta, Surabaya, Jakarta, Indonesia
05/09 / Resistance[s] / Entrez sans frapper / Toulouse, France
29/05 / Project Singe - Monkey Party / La Générale / Paris, France
11-13/05 / Le livre et l'art / Lieu Unique / Nantes, France
10/05 / Resistance[s] / La Générale / Paris, France
04/05 / Resistance[s] / Internationale Kurzfilmtage / Oberhausen, Germany
04/05 / Johanna Vaude & Helga Fanderl / ADA / Librairie Palais de Tokyo / Paris, France
19/04 / Resistance[s] / Centre Georges Pompidou / Paris, France
15/03 / Autres voies - Voix multiples / Vidéoformes / Clermont-Ferrand, France
08/03 / Johanna Vaude - Hybride / Cinémathèque Française / Paris, France
15/02 / Happy Birthday Lowave - 5 years !
24/01-04/02 / International Film Festival / Rotterdam, Holland
18/01 / Animondo / Centre Georges Pompidou / Paris, France
2006
01-31/12 / HG Gilje & PY Cruaud / I love 11 / Amsterdam, Holland
15/12 / City2City / Galerie ESCA / Nîmes, France
10/12 / Resistance[s] / Festival des Cinémas Différents / Paris, France
24/11 / Resistance[s] / Al Maslakh Festival / Bern, Switzerland
08/11 / Resistance[s] / Instants Vidéo / Marseille, France
07/11 / Yuki Kawamura / Nuit Blanche / Paris, France
04/11 / Cinéma Différent & Lust / Galerie Niu / Barcelona, Spain
31/10-01/11 / Resistance[s] / Arab Film Festival / Montreal / Canada
22/10 / Resistance[s], City2City, HC Gilje / Kyoto Bar / Cologne, Germany
19-22/10 / Felice Varini / Artecinema / Neapel, Italy
20-27/10 / Lowave @ ASEF / Tokyo Film Festival / Tokyo, Japan
02/09-17/12 / Resistance[s] / Museet for Samtidskunst / Roskilde, Denmark
10/09 / Resistance[s] / Kunsthallen Nikolaj / Kopenhagen, Denmark
08/09 / Resistance[s] / Cinemathek / Oslo, Norwegen
25/08 / Resistance[s] / Arabise Me / Victoria & Albert Museum / London, UK
21/07 / HC Gilje - Cityscapes / Galerie Niu / Barcelona, Spain
16/06 / Maurice Lemaître & Cinéma Different vol. 2 / Librairie Flammarion / Centre Pompidou / Paris, France
15/07-28/08 / Yuki Kawamura - Slide, HC Gilje - Cityscapes, Felice Varini / Citadelles d'Arts / Mondane, France
-21/05 / Felice Varini / Musée Bourdelle / Paris, France
18/05 / City2City / Le Cube / Issey-les Moulineaux, France
16/05 / Resistance[s] / Galerie La B.A.N.K / Paris, France
15/05 / Visions Urbaines / Centre Georges Pompidou / Paris, France
30/04 / Helga Fanderl / Musée du MAC/VAL / Vitry-sur-Seine, France
25/04 / Valérie Pavia / SCAM / Paris, France
21/04 / HC Gilje / Cinémathèque Française / Paris, France
06/04 / HC Gilje, Pierre-Yves Cruaud, Michael Betancourt, Yuki Kawamura / MK2 Beaubourg / Paris, France
05/04 / HC Gilje / Festival International du Court Métrage / Lille, France
02/04 / Valérie Pavia / Festival International du Court Métrage / Lille, France
14/01 / Pascal Lièvre / Galerie Vanessa Quang / Paris, France
01/03 / Yuki Kawamura & Yoshihiro Hanno / Point Ephémere / Paris, France
2005
17/12 / Yuki Kawamura - Slide / Bar Ourcq / Paris, France
15/12 / HC Gilje - Cityscapes / Club Transmediale / Berlin, Germany
17/11 / Françoise Romand - Mix-Up / SCAM / Paris, France
16/11 / Felice Varini / Librairie Flammarion / Centre Georges Pompidou / Paris, France
09/11 / Valérie Pavia & Pascal Lièvre / Project 101 / Paris, France
22/06 / Visions Urbaines, Pierre-Yves Cruaud, Cinéma Différerent / OPA / Paris, France
11/05 / Cinéma Différent / Project 101 / Paris, France
11/05 / Lust:12 sexy shorts / Filmhaus / Cologne, Germany
08/05 / Cinéma Différent / Pesaro Film Festival / Pesaro, Italy
30/03 / Cinéma Différent / Divan du Monde / Paris, France
26/03 / Salon La Clef / Saint-Germain-en-Laye, France
24/03 / Cinema Different sur France Culture, Paris, France
18/03 / Valérie Pavia / Vidéoformes / Clermont-Ferrand, France
05/01 / Metronomic / Divan du Monde / Paris, France
2004
14/12 / Metronomic / Arslonga / Paris, France
10/12 / Metronomic / Metallomix / Paris, France
04/12 / Pierre-Yves Cruaud / Squat / Paris, France