TO NAVIGATION
À propos de Lowave
Lowave est une plate-forme curatoriale de recherche basée à Singapour et à Paris. Les activités de Lowave se déploient autour de la création d'expositions, de la programmation de séances cinématographiques et de performances, de la production de projets audiovisuels, des publications, du conseil artistique et d'enseignement. La singularité du travail de Lowave tient à son ampleur internationale, avec un fort intérêt pour l'Asie, le Moyen-Orient et l'Afrique, à la valorisation d'artistes émergents, et au recours à l'interdisciplinarité et aux croisements interculturels.
L'équipe de Lowave se compose de quatre membres principaux : Silke Schmickl, directrice et co-fondatrice du label en 2002, l'éditeur Mickaël Robert-Gonçalves ainsi que les producteurs Jeremy Chua et Patricia Cartier-Millon. Cette équipe permanente est enrichie d'un dense réseau international de collaborateurs ponctuels. Lowave a travaillé avec des institutions telles que Centre Georges Pompidou, La Cinematheque française, The British Film Institute, 3rd Guangzhou Triennial, Beirut Art Fair 2014, Pera Museum Istanbul, KIT – Kunst-im-Tunnel Düsseldorf, The Arts House Singapore, Institute of Contemporary Arts Singapore et l'UNESCO.
Collection Lowave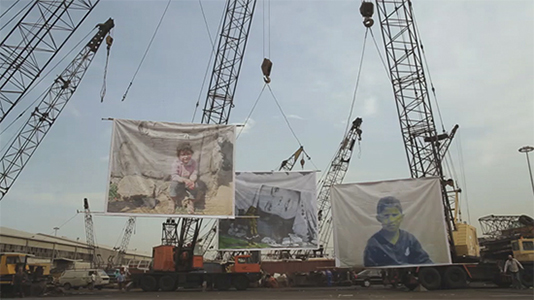 La collection Lowave a été créée entre 2002 et 2014 et comprend plus de 250 artistes et réalisateurs du monde entier. Le label a contribué à un nombre important d'expositions internationales, de biennales, de festivals de films ainsi que des manifestations académiques. Avec l'évolution de nos activités, nous avons arrêté la distribution de films et notre catalogue sert désormais comme archive retrançant plus qu'uné décennie d'histoire de l'art vidéo et du cinéma expérimental.
Lecture
– Présentation de Singapour mon amour dans le cadre de In the light of history: Visions of a nascent nation conçu par Asian film archive Singapore en collaboration avec National Gallery Singapore, 2016
– Silke Schmickl on body politics, video and the moving image at Beirut Art Fair 2014. Curator interview by Kriti Bajaj, in: Art radar – Contemporary trends and news from Asia and beyond, 2014
– Nicole Brenez, Good vibrations. The French dvd label Lowave takes itself to the edges of Film culture, in: Springerin, 2010
– Julie Crenn, In/Flux. Meeting with Katadiou Diallo, Dominique Malaquais and Silke Schmickl, in: Seismopolite. Journal of art and politics, 2013
– In Lieu of absence. Taysir Batniji in conversation with Silke Schmickl, in: Ibraaz, Platform 003, 2012