TO NAVIGATION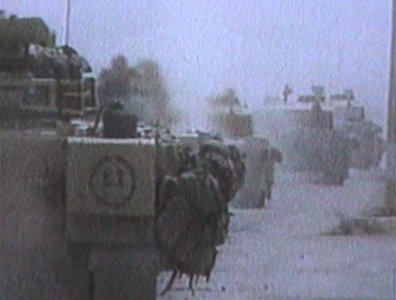 Author: Taysir Batniji
Producer: Lowave
Partner: CNAP – Centre national des arts plastiques
Available versions: Arabic, English, French
Duration: 15'
Format: DV, 4:3, colour
Genre: Documentary
Year: 2012
Synopsis
The narrative thread in Taysir Batniji's video is a telephone conversation between the artist located in France and his mother located in Gaza. Starting from this intimate, fluctuant, fragmented, difficult and sometimes indistinct exchange, the artist questions the resonance of words like displacement, in-between and exile. Through a triple point of view, Ma mère, David et moi explores how to look at one's home from elsewhere and how to establish connexions by combining narration, souvenirs, impressions, the personal story and information documents.
Screenings/Festivals
07-11/11/13 – Les Instants Vidéo, Marseille, France
11/04-18/05/13 –

Resilience and Light: Contemporary Palestinian Art,

Studio 3 Gallery, University of Kent, UK
25/10/12 –

House Arrests: Tales of the Hidden Inside

, International Centre of Graphic Arts, Ljubljana, Slovenie
12 & 14/06/12 – Côté-Court, Expérimental-essay-video art competition, Pantin, France
22/03-02/04/12 – Cinéma du Réel, Centre Georges Pompidou, Paris, France
Lowave productions
Lowave has been producing art films since 2007. Our catalogue presents short and feature-length films by international artists who develop new hybrid cinematographic languages. Inspired by documentary and experimental traditions, as well as performance or animation films, these works respond to social and political realities of the 21st century.
Filmography
Inspirational Ghost — Sissi Kaplan (2017)
Experimental, HD, 16:9, colour, sound
A dollar a day — Jocelyne Saab (2016)
Documentary, HD, 16:9, colour, sound
Nuit blanche — Anna M'barek (2015)
Animation, HD, 4:3, black/white, sound
Arrangements — Hélène Agofroy (2012)
Documentary, HD, 16:9, colour, sound
Ma mère, David et moi — Taysir Batniji (2012)
Documentary, DV, 4:3, colour, sound
Malachi Farrell à l'œuvre. La fabrication de « La Gégène » — Les Auteurs Anonymes (2008)
Documentary, DV, 4:3, colour, sound

Where do the images come from? An interview with Mounir Fatmi by Nicole Brenez — Lowave (2008)
Documentary, DV, 4:3, colour, sound
HC Gilje & Pierre-Yves Cruaud at I Love 11, Amsterdam — Lowave (2006)
Video installation, DV, 4:3, colour, sound
An interview with HC Gilje by Silke Schmickl — Lowave (2004)
Documentary, DV, 4:3, colour, sound
A conversation with Marcel Mazé, Founder of Collectif Jeune Cinéma — Lowave (2004)
Documentary, DV, 4:3, colour, sound
An interview with Rafael Lewandowski on Une ombre dans les yeux — Lowave (2004)
Documentary, DV, 4:3, colour, sound