TO NAVIGATION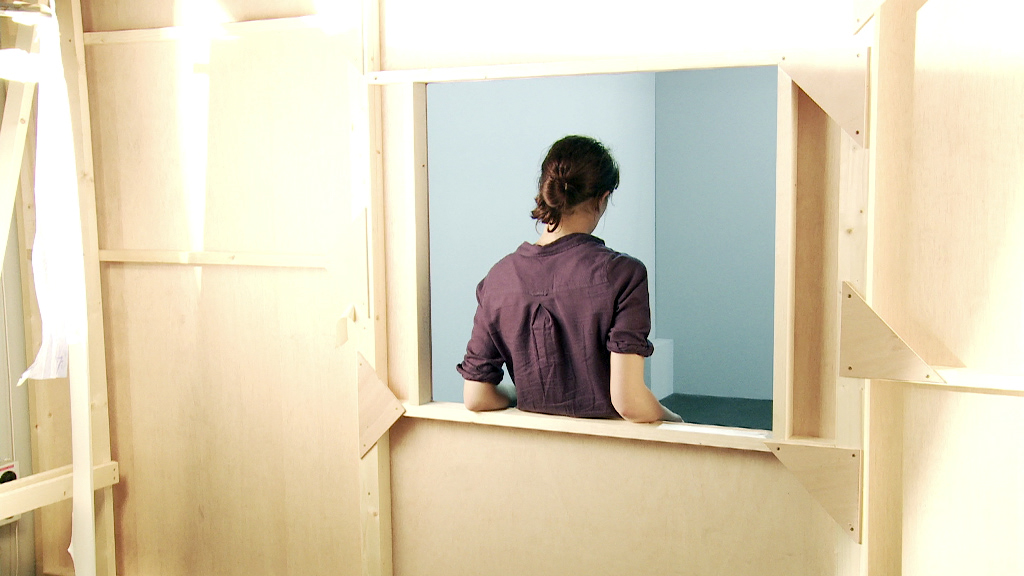 Author: Hélène Agofroy
Producer: Lowave
Partner: CNAP – Centre national des arts plastiques
Available versions: French, English
Duration: 30'
Format: HD, 16:9, colour
Genre: Documentary
Year: 2012
Synopsis
In an agular contruction of 20m2 built after the mesures of a real house two house movers are in action. They arrange the space following the criteria of six situations. One situation follows the other. The 1st evokes a pavillon for lunch in summer, the 2nd a refuge during the war, the 3rd the canteen of a factory, the 4th a storage room and a children's playground, the 5th the displacement and reconstruction. The last one recalls a tennis club and ends with a slideshow that offers an interpretation of the house's mobility: we see a cardbord model of the house that was photographed around the globe.
Screenings/Festivals
10/03/15 – Séance autour de l'oeuvre d'Hélène Agofroy, Auditorium of Musées de Strasbourg, Strasbourg, France
15-28/09/14 –

Arrangements

, Saison Vidéo 2014, ww.saisonvideo.com, France
13/03/13 –

Arrangements

(special screening), Centre Georges Pompidou, Paris, France
Lowave productions
Lowave has been producing art films since 2007. Our catalogue presents short and feature-length films by international artists who develop new hybrid cinematographic languages. Inspired by documentary and experimental traditions, as well as performance or animation films, these works respond to social and political realities of the 21st century.
Filmography
Inspirational Ghost — Sissi Kaplan (2017)
Experimental, HD, 16:9, colour, sound
A dollar a day — Jocelyne Saab (2016)
Documentary, HD, 16:9, colour, sound
Nuit blanche — Anna M'barek (2015)
Animation, HD, 4:3, black/white, sound
Arrangements — Hélène Agofroy (2012)
Documentary, HD, 16:9, colour, sound
Ma mère, David et moi — Taysir Batniji (2012)
Documentary, DV, 4:3, colour, sound
Malachi Farrell à l'œuvre. La fabrication de « La Gégène » — Les Auteurs Anonymes (2008)
Documentary, DV, 4:3, colour, sound

Where do the images come from? An interview with Mounir Fatmi by Nicole Brenez — Lowave (2008)
Documentary, DV, 4:3, colour, sound
HC Gilje & Pierre-Yves Cruaud at I Love 11, Amsterdam — Lowave (2006)
Video installation, DV, 4:3, colour, sound
An interview with HC Gilje by Silke Schmickl — Lowave (2004)
Documentary, DV, 4:3, colour, sound
A conversation with Marcel Mazé, Founder of Collectif Jeune Cinéma — Lowave (2004)
Documentary, DV, 4:3, colour, sound
An interview with Rafael Lewandowski on Une ombre dans les yeux — Lowave (2004)
Documentary, DV, 4:3, colour, sound