TO NAVIGATION
*1981, Polokwane, Afrique du Sud, vit et travaille à Polokwane, Afrique du Sud.
Dineo Bopape vit et travaille entre Amsterdam, Johannesburg et New York. Elle a fait ses études au Durban Institute of Technology, puis à De Ateliers à Amsterdam (2005-2007). En 2010, elle termine un Master à Columbia University (New York). Son travail résolument post-media (combinant vidéo, installation, peinture, dessin, performance) a été montré dans de nombreuses expositions, parmi lesquelles : Act IX: Let Us Compare Mythologies au Witte de With, Rotterdam (2010) ; Dada South? à Iziko South African National Gallery, Cape Town (2009) ; Rebelle: Art and Feminism 1969-2009 au Moderne Kunst Museum Arnhem, Pays Bas (2009) ; Younger Than Jesus au New Museum de New York (2009) ; ZA: Young Art from South Africa au Palazzo delle Papesse à Sienne, Italie (2008) ; Cape 07, Cape Town (2007). Elle est lauréate d'une Fountainhead Residency à Miami en 2011.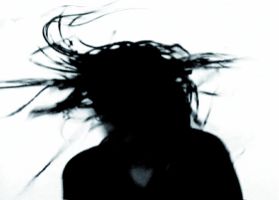 Under All Means Necessary / Afrique du Sud / 2006 / 4'35 / 4:3
Une femme hoche la tête doucement, regardant vers et au-delà le spectateur/camera. Ce qui apparaît comme un refus passif, doucement prend de l'élan et se poursuit au sein d'une secousse frénétique, d'un refus exaspéré. Au fur et à mesure du film, l'image, dans un mouvement éperdu, constant et croissant, se décompose en une discothèque de points, pixels, lignes abstraites, formes et couleurs. La musique, une intériorité féminine, accéléreé, doubleé, ralentie, mélange de sons tapis - percussions, bruits de pas, clameurs de l'audience et chansons étalés sur plusieurs niveaux dans un désordre/harmonie orchestral – amplifie la secousse violente qui agite l'écran.