TO NAVIGATION
*1975. Vit et travaille à Hong Kong, Chine.
Christopher Lau a étudié les mathématiques à l'Université Brock de Ste Catherine au Canada et les Beaux-Arts à la School of Creative Media de la City University à Hong Kong. Entre la vidéo et des projets transdisciplinaires, il explore souvent des formes et des sujets qui traitent de la mémoire, de l'identité et de la mort.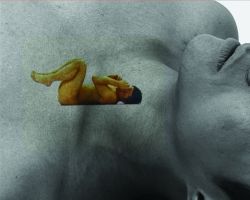 Aftermath (In Memory of His Body) [avec Nose Chan] / Hongkong / 2004 / 13'57 / 4:3
Aftermath examine, à la fois par le point de vue du chorégraphe et celui du réalisateur, la mémoire d'un corps mourant. Considérant le corps autant comme un objet qu'un sujet, ce travail extrait le « temps et l'espace » du corps mourant. Le voyage dans le temps de l'esprit (ou de l'âme) trouve un équivalent dans le flash-back qui survient dans l'esprit juste avant la mort.