TO NAVIGATION
* 1962, Beyrouth, Liban, vit et travaille à Istanbul, Turquie.
Jalal Toufic est un écrivain, un penseur et un artiste. Il est l'auteur de Distracted (1991; 2ème édition, 2003), (Vampires): An Uneasy Essay on the Undead in Film (1993; 2ème édition, 2003), Over-Sensitivity (1996), Forthcoming (2000), Undying Love, or Love Dies (2002), Two or Three Things I'm Dying to Tell You (2005), et 'Âshûrâ': This Blood Spilled in My Veins (2005). Ses vidéos et ses installations ont été présentées dans plusieurs manifestations artistiques internationales : Artists Space à New York, Witte de With à Rotterdam, Fundació Antoni Tàpies, à Barcelone,Fridericianum à Cassel, Le Musée National d'Art Contemporain à Athènes, Le 16ème International Documentary Film festival Amsterdam (IDFA) dans le cadre du programme « Focus Jalal Toufic ». Il a co-dirigé le numéro spécial de Discourse Gilles Deleuze: A Reason to Believe in this World, et dirigé les numéros spéciaux de Discourse Middle Eastern Films Before Thy Gaze Returns to Thee et Mortals to Death, de même que Review of Photographic Memory (Fondation Arabe pour l'image, 2004). Il a enseigné à l'université de Californie à Berkeley, California Institute of the Arts, USC, et à Amsterdam, DasArts et Rijksakademie.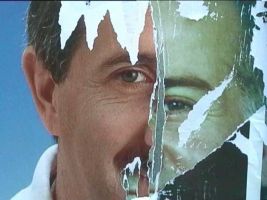 Saving Face / Liban / 2003 / 9' / 4:3
Les visages de tous les candidats affichés sur les murs du Liban lors de la campagne pour les élections législatives de 2000 attendaient-ils le résultat des élections ? Non. En tant que visages, ils attendaient d'être sauvés. Bien mieux que n'importe quel lifting chirurgical ou retouche numérique, c'était l'enlèvement physique d'une partie de l'affiche du visage d'un candidat, qui laissait apparaître partiellement, en dessous, le visage d'un autre candidat ; mais aussi l'accumulation d'affiches et de photographies les unes sur les autres qui produisaient le lifting le plus efficace, et se révélaient une façon réussie de sauver les visages de tous ceux concernés. Nous avons dans ces affiches recombinantes l'un des sites où la culture libanaise en particulier, et la culture arabe en général, embourbées dans une vision organique du corps, s'exposent à des corps non organiques.