TO NAVIGATION
Brandon Bauer est un artiste pluridisciplinaire vivant et travaillant à Milwaukee, dans le Wisconsin (États-Unis). Son oeuvre explore la façon dont le collage peut créer ou occulter des significations. Les créations de Brandon ont été exposées au festival Accès(s) cultures électroniques de Pau (France), au festival European Media Arts d'Osnabrück (Allemagne) et au Projet 101 de Paris, parmi plusieurs autres événements nationaux et internationaux. Son travail a été édité en DVD, a servi d'illustration pour divers livres et publications, et a été édité sous forme de posters. Brandon a récemment terminé son Master of Arts à l'Université de Wisconsin-Milwaukee et poursuit actuellement son Master of Fine Arts sur l'Intermedia. Brandon est membre associé du département Time Based Media à l'Institut des Arts et du Design de Milwaukee.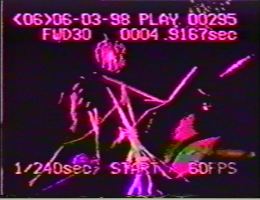 Signaldrift / France / 2003 / 60' / 4:3
Signaldrift: A Day Under the City est né de la collaboration entre l'artiste vidéo Brandon Bauer et Franz Bucholtz, le créateur de musique électronique. Dans cette création, l'analogique défend son territoire face au numérique au travers d'une structure composée d'images et de sons. Des morceaux de bande-vidéo associés à des bruitages et accompagnés de rythmes pulsionnels symbolisent la vie dans une ville américaine du Middle West à l'aube d'une nouvelle époque. Alors que nos sens sont immergés dans le monde de Signaldrift, le désir de s'équiper d'un vidéo projecteur et d'enceintes super puissantes devient subitement impératif.