TO NAVIGATION
*1978, Kuala Lumpur, en Malaisie. Vit et travaille à Kuala Lumpur, en Malaisie.
Chui Mui Tan a étudié le film d'animation à l'Université de Malaisie. Son travail personnel se caractérise par une sensibilité poétique liée à son éducation dans une petite ville et un regard vif sur les thèmes de l'accomplissement personnel et de la rédemption. En plus de réaliser ses films, Chui Mui est également productrice de films indépendants.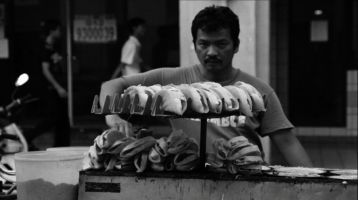 One Future / Malaisie / 2009 / 4'45 / 4:3
One Future est une histoire de science-fiction fébrile et puissante sur une société où tout est parfait, sauf que personne n'a le droit d'y parler.
Company of Mushrooms / Malaisie / 2006 / 30' / 4:3
Company of Mushrooms restitutue dans la moiteur d'une soiree d'été, un dîner entre hommes avec une rigueur naturaliste qui exacerbe encore la solitude de certains moments de vie apparemment anodins. Lâchés devant la caméra, les comédiens semblent se laisser aller à l'improvisation, offrant un cinema doux et aride a la fois.