TO NAVIGATION
*1969. Vit et travaille à Londres, Royaume-Uni.
Saki Satom réalise des dessins, des vidéos et des installations. Elle explore les normes comportementales en se concentrant souvent sur des codes et pratiques qui passent largement inaperçus. Le monde qu'elle représente semble familier, mais dans chacun de ses travaux, elle introduit une touche personnelle qui amène à tout interroger.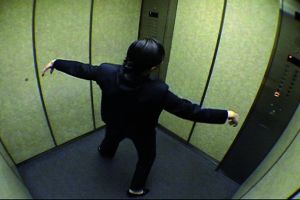 From B to H / Japon / 2002 / 4'30 / 16'15 / 4:3
From B to H capte les mouvements d'une femme solitaire dansant sur de la musique d'ambiance dans un ascenseur de bureau qui se mue en un studio de ballet privé. Son isolement volontaire lui fournit une occasion pour une performance réjouissante.