TO NAVIGATION
*1972, Auxerre, France. Lives and works in Paris, France.
His explorations of the moving image and spontaneous writing, allow Jérôme Blanquet to make a representation of what escapes our consciousness. Particularly inspired by technology, he continually questions the limits of its tools and knowledge. It diverts established forms, looking for gaps to open places where you can find meaning. At the crossroads of experimental video and performance, he plays with the accident, surprise, search abandonment, without censorship, to find the unconsious. He co-founded the collective labalaba, currently dissolved, with whom he made several clips with electronic performers (L. and A. Bourdoiseau Ganerli). He regularly collaborates with Metronomic for the production of short films and music videos (Alex Gopher, Jasmine Vegas ...). Jerome co-directs the creative group projectsinge since 1998 and is part of the project live audio_video DEMOLECULARISATION.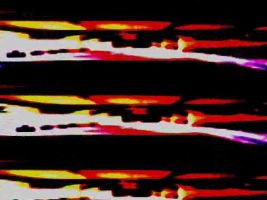 Monkey_Party is an interactive and random generating video DVD by the projectsinge group. It is also an interactive video installation that aims to sneak into our daily lives by manipulating common household audio-video equipment (TV, DVD player, stereo ...) in order to open our senses to new experiences. It's an alternative audiovisual encounter between performances, video, experimental cinema and digital art.