TO NAVIGATION
*1979 Bhilai, India. Lives and works in Bombay, India.
Tejal Shah is a visual artist working with video, photography and installation. Her work, like herself, is feminist, queer and political. She has exhibited widely in museums, galleries and film festivals and has co-founded, organised and curated Larzish – India's 1st International Film Festival of Sexuality and Gender Plurality.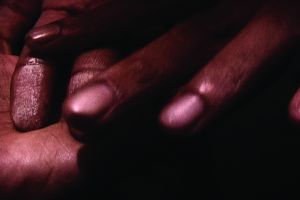 There is a spider living between us / India / 2008 / 6′ / 4:3
There is a spider living between us considers desire – the yearning for two to become one. This assimilation also exists formally in the multitude of deployed techniques – still frame animation, photocollage and memoir. We wander through, amid layers of language, lesbian sexuality and tribadism as a political, sexual act, as well as a physical fusing/scissoring. Ultimately the viewer is prompted to reflect upon the larger philosophical questions surrounding desire, which we may choose to frame for ourselves.
I Love My India / India / 2003 / 10' / 4:3
The documentary is a satirical investigation of the state of Indian democracy. The video uses the pogroms against the Muslim community in Gujarat in 2002 as a backdrop. The artist places the camera within a recreational setting, a stand for shooting balloons shaped in the phrase I love my India. This slogan was made popular during the 50th anniversary of independence during 1997-1998. By using the format of an opinion poll to interrogate the game's participants, Tejal Shah constructs a means to satirize the state of Indian democracy. Those questioned appear to be either little concerned by the 2002 events or strangely amnesiac. What happened next in this episode of events gives reason to the film's thesis.