TO NAVIGATION
*1962, Beirut, Lebanon, lives and works in Istanbul, Turkey.
Jalal Toufic is a writer, thinker and artist. He is the author of Distracted (1991; 2nd ed., 2003), (Vampires): An Uneasy Essay on the Undead in Film (1993; 2nd ed., 2003), Over-Sensitivity (1996), Forthcoming (2000), Undying Love, or Love Dies (2002), Two or Three Things I'm Dying to Tell You (2005), and 'Âshûrâ': This Blood Spilled in My Veins (2005). His videos and mixed-media works have been presented internationally in such venues as Artists Space in New York; Witte de With, Rotterdam; Fundació Antoni Tàpies, Barcelona; Kunsthalle Fridericianum, Kassel; the Na-tional Museum of Contemporary Art, Athens. and the 16th International Documentary Filmfestival Amsterdam (IDFA) as part of the "Focus Jalal Toufic" program. He co-edited the special Discourse issue Gilles Deleuze: A Reason to Believe in this World, and edited the special Discourse issues Middle Eastern Films Before Thy Gaze Returns to Thee and Mortals to Death as well as the Review of Photographic Memory (Arab Image Foundation, 2004). He has taught at the University of California at Berkeley, California Institute of the Arts, USC, and, in Amsterdam, DasArts and the Rijksakademie.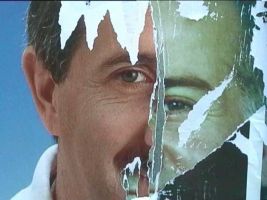 Saving Face / Lebanon / 2003 / 9' / 4:3
Were all the candidates' faces posted on the walls of Lebanon during the parliamentary campaign of 2000 waiting for the results of the elections? No. As faces, they were waiting to be saved. Far better than any surgical face-lift or digital retouching, it was the physical removal of part of the poster of the face of one candidate so that the face of another candidate would partially appear under it; as well as the accretions of posters and photographs over each other that produced the most effective face-lift, and that proved a successful face-saver for all concerned. We have in these resultant recombinant posters one of the sites where Lebanese culture in specific, and Arabic culture in general, mired in an organic view of the body, in an organic body, exposes itself to inorganic bodies.