TO NAVIGATION
*1971, Paris, France. Lives and Works in Paris, France and Brussels, Belgium.
Güldem Durmaz completed her foreign language (English and Turkish, her parents' tongue) and French Literature studies at the Sorbonne in 1993. Since 1994 she has been working as a film and theatre actress. In 2001, she wrote and directed her first short, Şoför/The Driver, shot entirely in the streets of Istanbul, starring Leos Carax's favourite actor Denis Lavant. Koro (The chorus) followed in 2002. Both films were made with the support of the Belgian Ministry of Culture. These films have received awards at numerous international festivals (Locarno, Venice, Saint-Petersburg, Amiens, Washington DC...)
In 2004, she worked with Belgian directors Bénédicte Liénard and Valérie Vanhoutwinck, co-directing Pour vivre, j'ai laissé (To live, I left behind), a documentary shot in a refugee center in Brussels. Currently in charge of theater and video workshops in Paris and Brussels, she is working on a feature-length documentary essay entitled Kazarken (Digging) alongside her other projects – including stage work and video installations. Güldem's work explores the links between memory, language, and culture, as well as transcultural and identity issues – experimenting with actors and non-actors, secret or invented languages, real-life or oneiric spaces and situations.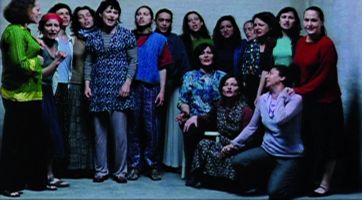 Koro / Turkey / 2002 / 13'30 / 4:3
Reconstitution from a childhood memory. The film takes place in the fictionnal country of Ourbeshistan. We view the emblematic visit to a women's prison including military controls, crowds that run to the entrance, reunions. The narration follows its own path fed by childhood souvenirs of surprise and confusion. Starting from a young age she is confronted with the consequences of political disobedience and with the strength and solidarity that these female detainees continue to maintain in order to keep their freedom of individual expression.