TO NAVIGATION
*1976 Istambul, Turkey. Lives and works in Istanbul.
Köken Ergunis a Turkish artist working in film and installation. His films often deal with communities that are not known to a greater public and the importance of ritual in such groups. Ergun usually spends long time with his subjects before starting to shoot and engages in a long research period for his projects. He also collaborates with ethnographers, historians and sociologists for publications and lecture series as extensions to his artistic practice.
Having studied acting at the İstanbul University, Ergun completed his postgraduate diploma degree in Ancient Greek Literature at King's College London, followed by an MA degree on Art History at the Bilgi University. After working with American theatre director Robert Wilson, Ergun became involved with video and film. His multi-channel video installations have been exhibited internationally at institutions including Palais de Tokyo, SALT, Garage MCA, Stedelijk Museum Bureau Amsterdam, Protocinema, KIASMA, Casino Luxembourg, Para-Site and Kunsthalle Winterthur. His films received several awards at film festivals including the Tiger Award for Short Film at the 2007 Rotterdam Film Festival and the Special Mention Prize at the 2013 Berlinale. Ergun's works are included in public collections such as the Centre Pompidou, Stadtmuseum Berlin and Kadist Foundation.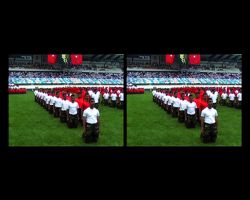 I, Soldier / Turkey / 2005 / 7'14 / 4:3
I, Soldier is the first part of a video series in which Köken Ergun deals with the state-controlled ceremonies for the national holidays of the Turkish Republic. The nationalistic attributes attached to these large-scale events are framed in a non-descriptive way and shown from an almost voyeuristic point of view. I, Soldier was shot at the national holiday for Youth and Sports, the day that marks the start of the Turkish War of Independence under the leadership of Mustafa Kemal Atatürk against the Allied Forces in 1919.