TO NAVIGATION
Lives and works in Paris, France and Rome, Italy.
After graduating from École nationale des beaux-arts in Saint-Étienne and École nationale des beaux-arts in Paris-Cergy, she received several grants from the French Ministry of Foreign Affairs to conceive and create films on contemporary art. Between 1987 and 1988 she was a cinema scholar at Villa Médicis, Academy of France in Rome. She earned several prizes such as the the Jury and Press Award as well as the Art House Award at Festival of Dunkerque in 1994, Best Essay Award at the 22nd edition of FIFA in Montreal in 2004. All her documentaries have been selected for the FIFA festival since 2003.
She has written and shot numerous creative documentaries on art for the Louvre, the Musée des Arts d'Afrique et d'Océanie, Le Fresnoy – Studio national des arts contemporains and the Pompidou Centre. She also writes feature screenplays. From 2001 to 2013 the French-German chain ARTE commissioned her a series of documentaries on design. She is also the author of a series of filmed artist portraits for the Pompidou Centre, which have entered its collection (2005-2010). In December 2011, the Galeries du Jeu de Paume in Paris held a retrospective of her films on design: Danielle Schirman – Un regard singulier sur les objets.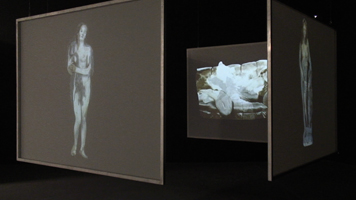 L'art du mont(r)age de Jean-Jacques Lebel / France / 2009 / 148' / 16:9
In 2009, La Maison Rouge presented an exhibition of a new kind: Soulèvements (Uprisings) – dedicated to Jean-Jacques Lebel and curated by Jean de Loisy. A giant and protean installation tackling the principal axis of the visual, poetic and political activities of this extraordinary artist, a polyglot and practitioner of rhizome. Directed by Danielle Schirman and starring congenial friends, the film witnesses of an undertaking that is rare due to its interdisciplinarity and libertarian request.