TO NAVIGATION
*1964, Cape Town, South Africa. Lives and works in Cape Town, South Africa.
Berni Searle works with lens-based media – photography, video, and film – to stage narratives connected to history, memory and place. Often politically and socially engaged, her work also draws on the universal emotions associated with vulnerability, loss and beauty.
Solo exhibitions during 2011 included Shimmer at the Stevenson Gallery, Cape Town and Interlaced, at De Hallen in Bruges, Belgium; MMKA, Netherlands and Frac Lorraine in Metz, France. Recent group exhibitions include Figures and Fictions at the Victoria and Albert Museum, London, She Devil at the MACRO, Rome, and Pictures by Women: A History of Modern Photography, MoMA, New York. She has participated in the 2nd Johannesburg Biennale (1997) and the Venice Biennales of 2001 and 2005. She received the Minister of Culture Prize at the 2000 Dakar Biennale.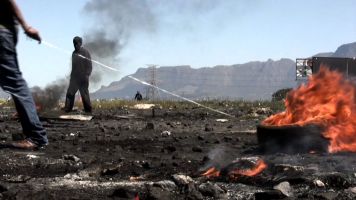 Black Smoke Rising / South Africa / 2009-10 / 18'02 / 16:9
Black smoke rising trilogy (2009-10), comprising Lull, Gateway and Moonlight, shown consecutively as single-screen projections. This is the first time the entire trilogy will be seen in Cape Town. This body of work was sparked by the rising levels of discontent among the poor in the country, which became overwhelmingly apparent in the wave of attacks against foreigners in 2008 and continue to manifest in protests by unions and mass demonstrations against poor service delivery. Fire is a recurrent image throughout the trilogy, as is - in the first and third videos - the burning tyre, a potent symbol of civil unrest since the apartheid era. More recently this image has also come to be associated with poverty and unemployment, as tyres are burnt to recover the wire inside - giving off toxic smoke with harmful effects for the environment.