TO NAVIGATION
* 1964, Germany. Lives and works in Germany.
After having attended an acting course, director, actor, and comedian Stefan Weinert played several major roles in theatres in Cologne and Düsseldorf before continuing his studies as a film and theatre set designer in Vienna that he went on to complete in 1991. He continues to work as a film director, theatre set designer, video art curator, and film festival organiser. From New York to Vienna to Barcelona and Cologne, since 1996, he has put in place his ideas while remaining focused on film. His work as an actor and short film director are increasingly central to his artistic goals. Stefan's work has been shown at numerous film festivals around the world often representing his home country of Germany.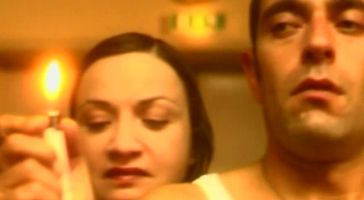 Always Sergej / Germany / 2002 / 2' / 4:3
Lust: 12 sexy short brings to light a wide range of cutting-edge films from 8 different countries that takes a humoristic look at the search for pleasure. It's a discovery of a wide range of low-budget film-making styles that strolls us through a frenetic world that begins with sex for some and ends in separations for others. These films portray experiences that dissolve into a blurry vision of love. Lust is an incomplete inventory - who could pretend otherwise !! - of the different strategies of attack and defense within the permanent struggle against loneliness. Lust shows us a world where although the rules are simple, the winner never adheres to them.