TO NAVIGATION
*1959, Colombia. Lives and works in Paris, France.
Following her art studies, French-Colombian artist Triny Prada continued her education at the National Conservatory of Arts and Crafts in Paris. Her work deals with the fragility of life and global social issues such as hunger and poverty and the fatal consequences they have on populations.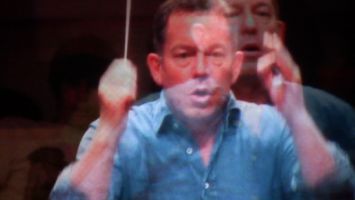 Genius and Madness / France-Colombia / 2010 / 6' / 16:9
From a tender age some children recognise and intuit their calling. An obsession resembling a state of madness pushes them to realise their dream. Once that obsession is fulfilled, madness turns to genius. Time and space become one.
Triny Prada / Food for thought / France / 2009 / 48' / 4:3
The protean work of the Columbian born and Paris based artist Triny Prada sketches uncharted territory. By combining images of different origins, reprocessed through multimedia technology, she draws a dense and composite video landscape borrowing from other forms of art including painting, sculpture, installation and especially performance art. All these art forms are reaching for the same goal: providing material for reflection. From arms to malnutrition, Triny Prada questions the interactions between man and machine by working on the motif of the wire, even if it results in provocation.
Action Readymade / France-Colombia / 2009 / 2'07 / 4:3
The War_tching Machine / France-Colombia / 2009 / 4'57 / 4:3
El Curandero / France-Colombia / 2008 / 4'26 / 4:3
Délicatesse / France-Colombia / 2008 / 2'33 / 4:3
Nature Morte / France-Colombia / 2008 / 2'43 / 4:3
Performance pouletique / France-Colombia / 2008 / 8'36 / 4:3
Rouge Passion / France-Colombia / 2008 / 1'26 / 4:3
The end / France-Colombia / 2008 / 4'18 / 4:3
Un goût d'amande verte / France-Colombia / 2008 / 2'36 / 4:3
iFood_pop / France-Colombia / 2007 / 4'16 / 4:3
Sculpture Pouletique / France-Colombia / 2007 / 4'20 / 4:3
Les poulets ne sont pas armés / France-Colombia / 2007 / 4'21 / 4:3