TO NAVIGATION
*1953, Paris, France. Lives and works in Breman, Germany.
Jean-François Guiton studied at the Kunstakademie Düsseldorf from 1980-1985. He was lecturer at the Bergische Universität-Gesamthochschule Wuppertal from 1987-1994 before becoming Professor of media in the areas of fine art and visual communication at the Ecole des Arts Décoratifs in Strasbourg (1994-1998). Since 1998, Jean-François Guiton is professor of new media at the Hochschule für Künste, Bremen.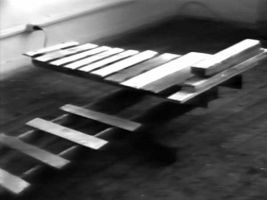 Jean-François Guiton / Video | 1982-1992 / France / 2008 / 95' / 4:3
In his videos, often filmed in the studio with simple objects and materials taken from the immediate surroundings, Guiton stages the gestures and repetitive actions of his own body as, little by little, they produce a world, a universe, all its own, one that holds its breath, suspended by that tight thread which stretches between momentum and its subsequent resolution. It is a universe riddled with extreme tension, one that synergetically brings together the sculptural space, the surface of the screen and the tempo of a visual musical score - a constant search for a sense of balance, an ever-present risk of falling.
Holzstücke / France-Germany / 1982 / 5'3 / 4:3
Pour faire le portrait d'un oiseau / France-Germany / 8'20 / 1983
Partitür / France-Germany / 1983 / 9'20 / 4:3
Handle with care / France-Germany / 1984 / 11' / 4:3
Fußnote / France-Germany / 1985 / 5' / 4:3
La Tâche / France-Germany / 1985 / 7' / 4:3
Der Käfig / France-Germany / 1986 / 9'30 / 4:3
La Longue Marche / France-Germany / 1987 / 9' / 4:3
Une question de souffle / France-Germany / 1988 / 10' / 4:3
Intermezzo ou Les chaises musicales / France-Germany / 1985 / 2'30 / 4:3
Coup de vent / France-Germany / 1990 / 9' / 4:3
Das schwarze Loch / France-Germany / 1991 / 9'10 / 4:3
Da Trapani / France-Germany / 1992 / 14' / 4:3