TO NAVIGATION
*1978, Helsinki, Finland. Lives and works in Helsinki, Finland.
Mio Juhana Pilvari Pirtola - a.k.a. Nosfe - is an active member of the Helsinki demo scene in the 1990s, he lives his passion for music via live performances while studying computer generated music and information technology. He produced his first video 0x2a (friendly places), but had to wait some time before being recognized as a demo artist. Nosfe has performed in a number of contemporary art spaces, museums and galleries. In the year 2003, he started with a screening of his work at the Tampere Film Festival.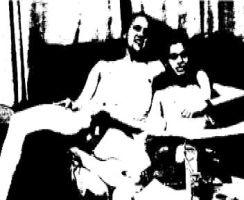 Fear and Love in Helsinki / Finland / 2003 / 3'26 / 4:3
Lust: 12 sexy shorts brings to light a wide range of cutting-edge films from 8 different countries that takes a humoristic look at the search for pleasure. It's a discovery of a wide range of low-budget film-making styles that strolls us through a frenetic world that begins with sex for some and ends in separations for others. These films portray experiences that dissolve into a blurry vision of love. Lust is an incomplete inventory - who could pretend otherwise !! - of the different strategies of attack and defense within the permanent struggle against loneliness. Lust shows us a world where although the rules are simple, the winner never adheres to them.
Pako / Finland / 2001 / 1'27 / 4:3
Everyone needs to be free, even if the cost of this freedom is high – this is the message that Nosfe, a young Finnish film-maker delivers via his short film Pako completed in 2001. This rebellious work captivates us through a succession of provocative slogans that accompany a rapid flow of images of Helsinki.
The crudeness of this film shows that the city can also be at the origin of repressive systems in which we need to break from in order to be free. Through digitally manipulated images of a certain beauty not evident to everyone, the artist puts into focus the sheer potential and power of the city.
In order to accentuate the impact of the film's words, Nosfe shows us dirty industrial sites with reworked light and shadows creates contrasts almost forcing us to take a stand. The articulation of the images, the words and accompanying noise creates an nerve-wracking ensemble that suggests the need for a better world.