TO NAVIGATION
*Lives and works in Barcelona, Spain, Luanda, Angola and other places.
Bofa da Cara is an artistic platform launched in Barcelona by a collective of contemporary audiovisual creators from Luanda, Barcelona, Mexico City, Valencia and Brighton who use video art, music, performance, documentary film and spoken word to transmit their discourses on today's global society. Bofa da Cara's only aim is to celebrate life in all of its contradictory angles. Bofa da Cara makes audiovisual art products.
"Our business is all that concerns us. Our business is all that inspires us; our business is all that gives us pleasure. Our business is the 3D notion of comfort. Ideologically our motto is: Quality + Quality & Content + Format = 100%. Format is content, quality is content."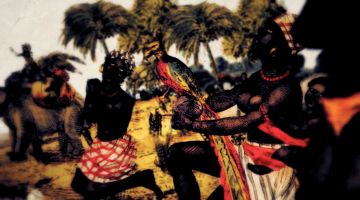 My African mind / Angola-Spain / 2010 / 6'12 / 16:9
Cut‐outs of pictures drawn from comic books, movie posters, advertisements and 19th century missionary accounts flash across the screen, rendered in 3D. Moving back and forth between image and text, My African Mind interrogates the violence of the colonial gaze and its present-day avatars. Even as we fly through filmic landscapes of dramatically shifting foregrounds and backgrounds, the images grip us firmly. They insist that we face head on the (not so) past horror of one continent's encounter with the other and the scars this has left on the face of the present.