TO NAVIGATION
*1981, Luanda, Angola. Lives and works in Luanda, Angola and Lisbon, Portugal.
A poet, performer, filmmaker and TV presenter, despite his relatively young age Nástio Mosquito has already lived multiple lives. For Angolan television, he has developed youth programs, made documentaries, among which Chá De Caxinde on one of Angola's oldest cultural associations, acted as director of photography on several productions, and appeared as an anchorman on the country's public channel. His artistic practice spans a wide range of media, from music to performance poetry, photography and video. He has taken part in numerous exhibitions, including the African Pavilion of the 52nd Venice Biennale (2007), Cape 09 (Cape Town, 2009), and, in 2010, the São Paulo Biennale and Manifesta 08.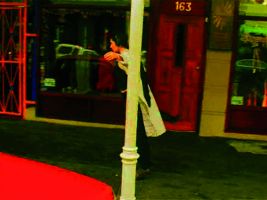 The Real People / Angola / 2009 / 5'44 / 16:9
A woman walk/skips/dances through the streets of a city that is and is not European, to the sound of a rap that is and is not African. The voice in the rap tells it like it is: if you want to be someone, you have to beat someone. That's how it is in the city: the un-named city, every city, the global city. Manning the camera and the mike, Nástio Mosquito offers a radical critique – part Fred Astaire number, part Rainbow Nation schtick – of the idealised postcolonial urban landscape, diverse, wide open, where everyone, so they say, can make it.