TO NAVIGATION
*1957, Colmar, France. Lives and works in France.
Rodolphe Burger, founder of the group Dernière Bande in Strasbourg, which became Kat Onoma in 1986, is a singer, guitarist and composer. He develops in parallel with Kat Onoma, a successful solo career (including Meteor show, and receiving the Charles-Cros prize in 1998), cine-concerts with writer Pierre Alferi and various collaborations: 48 cameras, Eugene Savitzkaya, James Blood Ulmer, etc. In 2002, he founded his own production company re-using Dernière Bande as the name. Since then, he has produced projects around sound and image, sometimes deviating signifcantly from the early rock sound of Kat Onoma but exploiting the possibilities of experimentation that the group already started. Since 2001, he creates an annual Festival des Vieilles Ploughs, increasing collaborations (from Alain Bashung to Jacques Higelin with Erik Marchand or Serge Teyssot-Gay).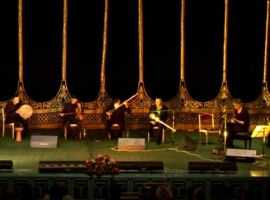 Planetarium [with Yves Dormoy] / France-Uzbekistan / 2006 / 96' / 4:3
The musicians Yves Dormoy and Rodolphe Burger have worked together since the 1980s in Strasbourg, France, with various forms from jazz to rock. The Planetarium project, the result of work at the Cité des Sciences in Paris in September 2003, brings together their musical research around computers, clarinette, saxophone (Dormoy), electric guitar and vocals (Burger). The DVD presents two recent concerts based on this creation: 1/ Live at the Bandits-Mages Festival / Bourges 2006 / images Ewen Chardronnet. 2/ Live at the Tashkent National Conservatory / with four traditionnal Uzbek musicians.
Live at the Bandits-Mages Festival / France / 2007 /64' / 4:3
Live at the Tashkent Conservatory / Uzbekistan / 2007 / 32' / 4:3