TO NAVIGATION
*Founded in 1992, New Dehli, India. Based in New Dehli, India.
Raqs Media Collective is a group of three media practitioners - Jeebesh Bagchi (New Delhi, 1965), Monica Narula (New Delhi, 1969) and Shuddhabrata Sengupta (New Delhi, 1968) - who have been variously described as artists, curators, researchers, editors and catalysts of cultural processes. Their work, which has been exhibited widely in major international spaces and events (Venice Biennal, Dokumenta, Istanbul Biennial, Guangzhou Triennal etc.) locates them squarely along the intersections of contemporary art, historical enquiry, philosophical speculation, research and theory – often taking the form of installations, online and offline media objects, performances and encounters. They live and work in Delhi, based at Sarai, Centre for the Study of Developing Societies, an initiative they co-founded in 2000. They are members of the editorial collective of the Sarai Reader series. In 2008 the members of Raqs have been co-curators of "Manifesta 7", The European Biennial of Contemporary Art in Trentino-Alto Adige, Italy and the Indian Highway exhibition at the Serpentine Gallery in London.
http://www.raqsmediacollective.net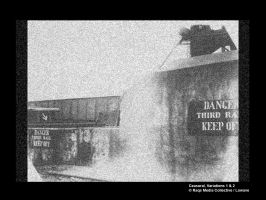 Ceasural Variations 1 and 2 / India / 2007 / 7'30 / 4:3
Ceasural, Variations 1 and 2 is a video meditation in two parts featuring Pittsburgh, PA as a backdrop. In Ceasural, Variations 1, the screen is divided horizontally. The upper part takes us through the countryside along the banks of the Allegheny River and towards an abandoned steel mill that's been reclaimed by nature while images of factory effluence sculpts the sky. The second film is a tour of a steel shop through various archival images from the 1930's, leaving a phantom like space to appear, empty of its workers. The diptych tries to encapsulate through different points of view, the vestiges of memory, the surviving elements of Pittsburgh's golden age, and the industrial revolution. The second part recalls work by Raqs that fit the category of the phantiroman, a contraction between phantom, anti and roman (fictional story). Conventional photo-novels are based on photographic scenes, placed in a particular order and accompanied by narrative text. The phantiroman uses found images from situations, accompanied by terse text in order to construct a darker narrative full of melancholy and irony in contrast to sentimental and sensational photo-novels. In this way, the diptych forms part of the Raqs Media Collective's exploration of modernity and its imitators, through archives and memory, in constructing an ontology of the present.