TO NAVIGATION
*1970, Dublin, Ireland. Lives and works in Malakoff, France.
Having studied electronic art, his complex installations link light and sound to the mechanical choreography of his invented objects. Their tinkered and handcrafted characteristics reinforce the dark humor and satire suggestive of circus and street theatre.
As they engage audiences with political, social, and ecological phenomenon, his works create uneasiness and prompt us to act. Drawing from global issues with the help of grunge-punk pop culture, Farrell highlights the conflict between nature and industry as he defies our consumerist society. His work is exhibited around the world and has been included in some of the most prestigious international art collections.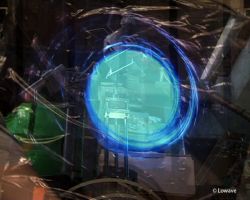 MALACHI FARRELL A L'ŒUVRE -La fabrication de « La Gégène » / France / 76' / 4:3
The documentary Malachi Farrell à l'œuvre - La Fabrication de « La Gégène » (Malachi Farrell at work, The Making of La Gégène) retraces the steps involved in the making of La Gégène, a mixed media art work by Malachi Farrell and his team for the MAC/VAL Museum in Vitry-sur-Seine, France, in 2007. Using movement, objects, images and sounds, La Gégène evokes the Algerian War and its related acts of violent torture as well as today's media deluge. Filmed in an experimental fashion, this documentary depicts the strength of this activist art work as it invites viewers to question social, political, historical, and contemporary events.