TO NAVIGATION
*1963, Cairo, Egypt. Lives and works in Cairo, Egypt.
While studying medicine, Khaled Hafez took night classes at the Fine Arts Academy in Cairo (1981-1990) and later received an M.A. from the Transart Institute (Donau University, Krems, Austria). His paintings, which meld ancient Egyptian deities and comix superheroes, and his videos, in which he addresses a range of political issues, have been exhibited widely: Manifesta 08 (2010); Tarjamah/Translation, Queens Museum, New York (2009); Unveiled: New Art from the Middle East, the Saatchi Gallery, London (2009); the Guangzhou Triennial (2008); The Present Out of the Past Millennia, Kunstmuseum Bonn (2007); This Day, Tate Modern, London (2007); the Sharjah Biennale (2007); the Dakar Biennale (2006). His work is found in the permanent collections of the Saatchi Gallery (London), MuHKA, (Contemporary Art Museum, Antwerp), Ars Aevi (Contemporary Art Museum, Sarajevo) and the National Museum of Mali, Bamako.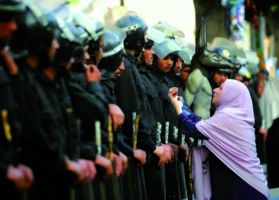 The a77a Project (On Superheroes and Presidents) / Egypt / 2009 / 4' / 4:3
This short, ironic film reflects on recent social changes in an African megacity: Cairo. Two figures drawn from a large-scale canvas by the artist are cast in motion via 3D animation and morph into the ancient god Anubis. The Lord of the Afterlife walks through the streets of present-day Cairo, past scenes of daily life, in what was once described as "one of the most beautiful downtowns in the world." The film's score is a mix of sounds drawn from cyberspace and archival voice recordings: re-worked open-source digital loops and samples of Egyptian president Nasser delivering his famous 1967 resignation speech.
Revolution / Egypt / 2006 / 4'06 / 16:9
An experimental screen is split on the three flag colors: Red, White and Black that represent the three promises of the Pan-Arab military coup-d'etat / revolution: Social equity, Liberty and Unity. We learn throughout the 4 minute duration that what remains of the broken promises are the social equity of the military gun, the pseudo-liberty of the multinational transcontinental corporations and the unity of chopping heads representing the worldwide rising right wing religious fundamentalism.