TO NAVIGATION
*Marseille, France. Lives and works in Paris, France.
After her studies at IDHEC, Françoise Romand directed her first film in 1985: Mix-up, discovered by the New Directors New Films at MOMA, is acclaimed by the American critics and chosen as the Favorite Film of 1988 by Jonathan Rosenbaum and one of his 15 best of the 80's. Again on the borderline between fiction and documentary, still questionning about identity, her second film, Call Me Madame, tours around the USA. Her thriller, Past-Imperfect, and her comedy, Vice Vertu and Vice Versa, drive her to teach at Harvard. More experimental than ever, her last film, Theme Je (The Camera I), is an autofiction which flirts with the Webcam to raise issues of cinema. This time on the borderline between cinema, theater, web, her happening Cine-Romand opened on the underground scene in Paris in 2007.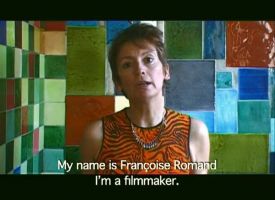 Thème Je (The Camera I) / France / 2011 / 129' / 4:3
"A forty year-old Parisian, Francoise Romand loses herself in various loves and cities. This film is a jubilant self-mockery, passing through several continents and mixing languages in a cultural, racial and sexual diversity anchored in our times. Wildly inventive, this crazy, non-linear portrait of a filmmaker explores autofiction, cheerfully flouting convention in a way that will appeal to a young audience. In a genre rarely seen in film, Romand stages a series of fantasies, using her own mischievous humor. She takes the scalpel to herself as we watch and reinvents herself through games of chance and a family secret. This experiment in DV flirts with the webcam to raise questions about cinema." - Anne Gillain
Thème Je (The Camera I) / France / 107' / 1999-2011 / 4:3
Rencontres (Intersections) / France / 22' / 1977 / 4:3
Gais Gay Games / France / 2011 / 40' / 16:9
The Gay Games are open to everyone, with no entrance requirements of age, level or occupation. These games, without the customary rules, anticipate the future of an athletic world committed firmly to values of comradeship and respect for differences. Men and women from all over, 10,000 participants, gather for the Gay "Olympic" Games in Köln, Germany. With humor and tenderness Françoise Romand films them as they reveal their desires and their doubts. Following the switched babies in Mix-Up, the delayed transsexuality of a communist poet becoming a woman with the help of his wife in Call Me Madame, the twins of The Crumbs of Purgatory, the exchange of lives of the two heroines of Vice Versa, the amnesia of Past Imperfect, and autofiction in The Camera I, Françoise Romand is still questioning identity and getting rid of old cliches.
Gai Gay Games / France / 2011 / 30' / 16:9
Ciné-Romand / France / 2009 / 99' / 4:3
Ciné-Romand is a mise-en-abyme of previous films of Francoise Romand. Spectators are invited to discover them at a happening that mixes fiction and reality as domestic theater. Voyeurs are not always who we think they are. Romand takes her inspiration from L'Arroseur arrosé (The Sprinkler Sprinkled), continuing the role of her great-grandfather from La Ciotat, the playful kid who bent the hose to stop the water. After filming the spectators and tenants of the apartments where documentary scenes were improvised, Romand integrated them fictionally into excerpts from previous films, reworked in the editing. Guests/spectators, hosts, angels-guides, actors and technicians - all become characters in this fiction-documentary where Alice's looking glass reflects a mischievous fantasy with the roles reversed and complementing one another.
Ciné-Romand / France / 2009 / 90' / 4:3
Réflexions désobligeantes / France / 2009 / 7' / 4:3
Call Me Madame / France / 1987 / 83' / 4:3
"Instead of making a film "about transexuality", Romand manages to draw a portrait of a complex and ultimately rather aloof personality caught in a network of social and intimate relationships, but also to convey to the audience, with a real respect for the subject, a glimpse of her private world..."
Jonathan Rosenbaum (Chicago Reader)
Call Me Madame / France / 1987 / 52' / 4:3
22 ans plus tard / France / 2008 / 15' / 16:9
Onboard / France / 2008 / 16' / 16:9
Mix-Up / France-UK / 2005 / 80' / 4:3
"One of the most remarkable and innovative documentaries ever made, this film by Françoise Romand follows the famous true story of two English women who as babies got switched in the hospital and 20 years later discovered that they'd been raised by the wrong sets of parents." Jonathan ROSENBAUM (Chicago Reader)
Mix-Up / France-UK / 1986 / 63' / 4:3