TO NAVIGATION
*1966, Cape Town, South Africa. Lives and works in Cape Town, South Africa.
Julia Raynham's work melds choreography, theatre, poetry, video, sound, performance and improvisation, in a distinctly experimental vein. After studying architecture and music, she trained extensively as a sangoma (link between the ancestral and human worlds, specialist of herbal medicine, counsel in matters of psychological disturbance in Zulu, Swazi, Xhosa and Ndebele communities of Southern Africa). An ex-member of key collectives on the South Africa scene (Honeymoon Suites; The Mothertongue Project) and a writer (We Tell Our Old Songs: San Music of Southern Africa, with Marlene Winberg, 2004; ilikemagazine), she is the founder of Resonance Bazaar, a multidisciplinary platform for the development of artistic partnerships. Among her most renowned works are: Return to Traveller (The Edge, Cape Town, 2009); 21st Century Animal (7th edition of Rencontres Chorégraphiques de l'Afrique et de l'Océan Indien, 2008); A New Body Will Be Assembled … More Brilliant than Memory (Spier Contemporary, Cape Town, 2007).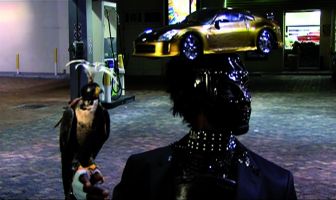 Rulings of the Night / South Africa / 2008 / 3'47 / 16:9
Two dancers move from the heights of Table Mountain, overlooking Cape Town, to the bowels of the city: a car park and then the aisles of a supermarket lit ghastly white. They are accompanied by a bird of prey and stalked by the ghostly presence of a mystic gorilla. Following in their wake, we question what the human race and the late capitalist system, to which it is enthralled, have done to the cities they call home.