TO NAVIGATION
*1981, Polokwane, South Africa. Lives and works in Polokwane, South Africa.
She studied at the Durban Institute of Technology and at De Ateliers in Amsterdam (2005-2007). In 2010, she received an M.A. from Columbia University (New York City). Her resolutely trans-disciplinary art (combining video, installation, painting, drawing and performance) has been shown in many exhibitions, among which: Act IX: Let Us Compare Mythologies at Witte de With, Rotterdam (2010); Dada South? at Iziko South African National Gallery, Cape Town (2009); Rebelle: Art and Feminism 1969-2009 at the Moderne Kunst Museum Arnhem, the Netherlands (2009); Younger Than Jesus at the New Museum, New York (2009); ZA: Young Art from South Africa at the Palazzo delle Papesse in Sienna, Italy (2008); and Cape 07, Cape Town (2007). 2011 brings her to Miami, as the recipient of a Fountainhead Residency.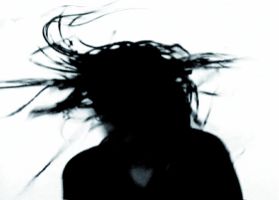 Under All Means Necessary / South Africa / 2006 / 4'35 / 4:3
A woman shakes her head slowly, looking to and away from the viewer/camera. What appears to be passive refusal slowly gathers speed and proceeds into a full-tilt frenzy of head shaking, a maddened refusal. As the film proceeds, the image, in constant and increasingly frantic movement, breaks down into a disco of dots, pixels, abstracted lines, shapes and colors. The score, an inter-woven, sped-up, doubled, slowed down, sniped mix of sounds - drumbeats, footsteps, audience cheers and songs layered in an orchestral mess/harmony - amplifies the violent shake-up going on on the screen.