TO NAVIGATION
*1971, Şırnak, Turkey. Lives and Works in Diyarbakır, Turkey.
Sener Özmen is a Kurdish artist, art critic, and writer. His writing on art was published in various specialized papers and in Turkish daily national newspapers. Focused on Turkish art from the 1990s, he takes part in and reports on national and international art scenes. His poems, novels, and comics where published in Kurdish and Turkish with a few having been translated into English. As a member of the PEN Club International, he was awarded the Swiss Prix Meuly in 2005. His art, photographs and videos reflect the current political situation in Turkey and across the globe.
Using a sometimes disturbing form of irony aimed at provocation, his work aims to expose the violence in South-western Turkey. Over the past 15 years, Sener's work was featured in various group exhibitions including Look Again, Proje4L, at the Istanbul Museum of Contemporary Art, Istanbul in 2001, Future Democracy, at the Akbank Culture and Arts Centre, Istanbul in 2003, the 9th International Istanbul Biennial, Istanbul in 2005, and the Kunst-Film Biennale Köln in 2005. In 2005 he held his first solo exhibition, Vidéo Surveillance_002, at Galerie Schleicher+Lange in Paris.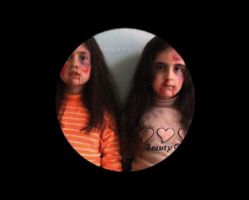 Our village / Turkey / 2004 / 7'09 / 4:3
Two Young girls are mechanically singing thrice the same traditional Kurdish song. Even if they remain impassive, little by little their faces are covered by marks of violence and therefore places the viewer in an uncomfortable situation. The feeling of uneasiness is reinforced by the song's words on the beauty of the mountains while reminding us that female mountain dwellers have no future apart from being shepherds.