TO NAVIGATION
*1955, Montereau, France. Lives and works in Paris, France.
Passionate about photography and cinema, Antoine de Roux has directed many short films in super eight. In 1975, he joined a production house as an assistant editor to Ragnar Van Levden and chief editor to William Klein working on reports and documentaries. In 1980, he became a professional photographer focussing on still life and architecture. During this period, he exhibited his work at the Centre National de la Photographie, the Centre Pompidou and the National Library. In the late 1990s, through his meeting and involvement with artists, he returns to his first passion, installation and film.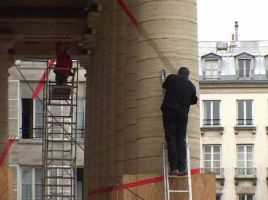 Sans titre, Mudam / France / 2008 / 54'30 / 4:3
1 film, 1 interview with Marie-Claude Beaud, 1 interview with Clément Minighetti, 1 bonus film, 1 photo gallery, 1 biography, a selection of critical texts
In May 2008, after a year of testing out the materials and finalising the project with the museum's technical team, Laurent Pariente installed, in Mudam Luxembourg, his new work of art: a single wall over 300 metres long, transparent and coloured, formed from 144 panels put together with hinges, unfurling in the central area of the Grand Hall. This film retraces the construction and installation of the work of art. With no commentary besides that of this venture's participants (Laurent Pariente as well as that of the Mudam Luxembourg team members), day after day, Antoine de Roux's camera – unobtrusive yet observant – follows the team every step of the way, through the difficulties and the uncertainties. From this artistic and intimate vantage point into which they are thrust, the film's viewers are able to familiarise themselves with the work, and are made completely free to give it meaning, and consider its beauty.
Artists at work: Laurent Pariente / France / 2007 / 71' / 4:3
1 film, 1 interview with Laurent Pariente by Juliette Laffon, 1 interview with Daniel Bosser, 1 biography, 1 photo gallery, a selection of critical texts
In the summer of 2006, Antoine de Roux filmed Laurent Pariente at work on his installation at the Bourdelle Museum in Paris. He followed the artist with his camera during the entire construction of his work - a structure made up of walls, passages and ceilings, and a floor covered in chalk, proliferating across the four rooms of Antoine Bourdelle's former studios. During the installation, Pariente is confronted with the reality of the space and that of his own art. Surrounded by a team of workers and assistants, he encounters a number of technical, formal, and human problems, as well as a fundamental one: how to include Antoine Bourdelle's work within his own.
Artists at work: Felice Varini / France / 2005 / 45' / 4:3
1 film, 1 slideshow, 1 biography, a selection of critical text
7 Lines for 5 Triangles is a documentary presentation of Felice Varini's art installation at the Place de l'Odéon in Paris in 2003: a continuous line bent 7 times to form 5 triangles over the architectural space. Directed by Antoine De Roux, the documentary aims to follow the artist and the participants as they take part in the making of the installation. The films shows from start to finish, the occupation of the space by Varini, his art, and his assistants, including inevitable surprises and technical challenges that happen along the way. We also get to see the reaction of passers-by and local inhabitants as well as the jubilation of the crowds during the opening night.