TO NAVIGATION
*1947, Ingolstadt, Germany. Lives and works in Frankfurt, Germany and Paris, France.
Born in Ingolstadt in 1947. Studied German, Romance Languages and Literature in Munich, Paris and Frankfurt/Main (1967-1973). Studied at the Art School, "Städelschule", in Frankfurt/Main (1987-1992) and at Cooper Union in New York City (1992-1993). Since 1990 her work is represented in film museums, museums of modern and contemporary art, exhibition spaces, galleries, art house cinemas, and other locations she has selected: Deutsches Filmmuseum, Frankfurt/Main.; Arsenal, Berlin; Portikus, Frankfurt/Main.; Museum für Zeitgenössische Kunst, Basel; Österreichisches Filmmuseum, Wien; Anthology Film Archives, New York; Museum für Moderne Kunst, Frankfurt/Main.; Centre genevois de gravure contemporaine, Genf; Musée d'Art Moderne, Strasbourg; Kunsthalle Bielefeld; Schirn Kunsthalle, Frankfurt/Main.; Ausstellungsraum Konstantin Adamopoulos, Frankfurt/Main.; Galerie König and Johanneskirche, Hanau; Galerie Agathe Gaillard, Paris; Xenix, Zürich; Filmpodium, Zürich; Kino im Kunstmuseum, Bern; L'Entrepôt, Paris; Centre Bruxelles-Wallonie, Paris; Babylon Mitte, Berlin; Cineteca di Bologna; Mal Seh'n Kino, Frankfurt/Main.; Stadtkino Basel; Forum des images, Paris; Studio Galande, Paris; Goethe House, New York; The New York Public Library, New York; Theater in der Garage, Erlangen; Theater am Turm (TAT), Frankfurt/Main.; Centre Culturel Suisse, Paris.
Her films are featured in the following collections: Hans Bodenmann, Basel; Museum für Moderne Kunst, Frankfurt/Main; Auditorium du Louvre, Paris. Awards and scholarships: 1992 Coutts Contemporary Art Award, 1998 German Film Critique's Award / category experimental film, 1999-2000 Scholarship Hessische Kulturstiftung in Paris; 2000 Hessischer Kulturpreis.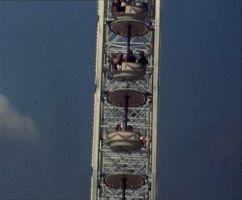 Helga Fanderl / FRAGIL(E) / France / 2006 / 65' / 4:3
11 films, 1 documentary about Helga Fanderl's work, 1 interview with Helga Fanderl, 1 biography, trilingual book (in English, French and German, 52 pages, with texts by Bruno Montels, Peter Z. Herzog, Christine Noll Brinckmann and an interview with Helga Fanderl by Antonie Bergmeier
FRAGIL(E) is a book and DVD that presents 11 Super 8 films by Helga Fanderl, made between 1986 and 2005. The selected films, Polar Bear, Passers-By, Bulrushes, Fountain, Girls, Ferris Wheel, Airplanes II, Falling Water, Under the Water Lilies, Weybridge and Fireworks, are a small sample of her large body of work which now includes over 200 Super 8 films. Helga Fanderl uses a shoot and cut technique where the act of perceiving and filming are one and the same. There is no post shot editing involved, everything is done in the camera. The films show what's happening in front of the camera as well as the simultaneous logical process of its transformation by using the chronology of the event as cinematographic writing.