TO NAVIGATION
*Born 1970 in Tangier, Morocco. Lives and works in Paris, France.
Mounir Fatmi constructs visual spaces and linguistic games that aim to free the viewer from his preconceptions of politics and religion, and allows him to contemplate these and other subjects in new ways. His videos, installations, drawings, paintings and sculptures bring to light our doubts, fears and desires. They directly address the current events of our world, and serve to both clarify the origins and symptoms of global issues, as well as speak to those whose lives are affected by specific events.
Mounir Fatmi's work has been exhibited in the Migros Museum für Gegenwartskunst, Zurich, Switzerland, the Museum Kunst Palast, Düsseldorf, Germany, the Centre Georges Pompidou, Paris, France, and the Mori Art Museum, Tokyo, Japan. He also participated in the Gwangju Biennial, Korea, and the 2nd Seville Biennial, Spain. In 2006 he was awarded the Grand Prize at the 7th Dakar Biennial. In 2007 his work was included in the 1st Luanda Triennial in Angola, 8th Biennial of Sharjah and the 52nd Biennial of Venice. In 2008, his video Embargo has been shown at the Tate Modern in London, in the retrospective Paradise Now! Essential French Avant-garde Cinema 1890-2008.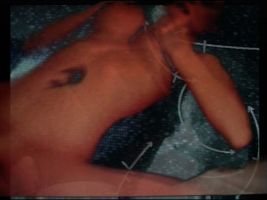 Dieu me pardonne / Morocco-France / 2001 / 8'15 / 4:3
With the video Dieu me pardonne (May God forgive me) Mounir Fatmi analyses the impact of television images. A Hadith, a saying of the prophet Mohamed, regarding women is used as the common thread: "The first look projected onto a woman is for you, the second is for the devil, and the third is a crime." Recordings taken from various television programs – from news items to pornography – are juxtapositioned, superimposed and combined to create an intriguing ensemble. The result is a rich and dense network of associations that transforms the primal sense of the images and encourages the viewer to question the poor standards of television. Through the use of slow motion and repetition, these originally catastrophic images appear strangely beautiful.
Mounir Fatmi / Hard Head / France / 2008 / 70' / 4:3
The Hard Head DVD includes a selection of eight videos produced and created between 1999 and 2008 by Moroccan artist Mounir Fatmi. Political, provocative, spiritual and poetic, these complex works bring to light the artist's ambiguities, doubts, fears and desires relating to our world's current events. Using playful language inspired by islamic art, the Koran and european authors such as Artaud and Montesquieu, his videos toy with contextual relationships by blurring the notions of a here and there. Mounir Fatmi has been present on the international scene for more than ten years and is one of the most profilic figures of contemporary Arab art. His works have been shown at Migros Museum, Museum Kunst Palast, Centre Georges Pompidou, Tate Modern and the Mori Art Museum as well as various bienniales in Venice, Seville, South Korea, Sharjah and Dakar.
Face, les 99 noms de Dieu / Morroco-France / 1999 / 9'15 / 4:3
Dieu me pardonne / Morocco-France / 2001-2004 / 8'15 / 4:3
Les ciseaux / Morocco-France / 2003 / 12' / 4:3
Les égarés / Morocco-France / 2003-2004 / 9' / 4:3
Rain Making (Faiseurs de pluie) / Morocco-France / 2004 / 6' / 4:3
Commerciale / Morocco-France / 2004 / 6'30 / 4:3
Manipulation / Morroco-France / 2004 / 6'50 / 4:3
The Machinery / Morocco-France / 2007 / 5' / 4:3