TO NAVIGATION
*1968, Germany. Lives and works in Germany.
Between 1987 and 1993 Natalie Ital studied Visual Communications in Kassel where she specialized in experimental photography. From portrait photography to collages via photogrammes, she experiments with all the possibilities presented by this medium.
Inspired by Rock and Roll music on the one hand and her observations of everyday life on the other hand, Natalie has based her work work on celebrity icons such as Marilyn Monroe, Elvis Presley, Hitler and Lady Di which are then transformed into Teddy bears that act out roles in her short films. Her Teddy bears, films, photographs as well as her paintings are currently shown in a number of galleries and contemporary art museums around the world.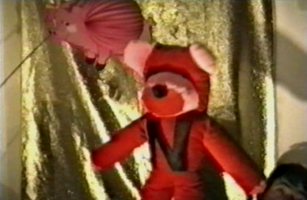 Krieg im Sunshineland / Allemagne / 2007 / 8' / 4:3
Lust: 12 sexy short brings to light a wide range of cutting-edge films from 8 different countries that takes a humoristic look at the search for pleasure. It's a discovery of a wide range of low-budget film-making styles that strolls us through a frenetic world that begins with sex for some and ends in separations for others. These films portray experiences that dissolve into a blurry vision of love. Lust is an incomplete inventory - who could pretend otherwise !! - of the different strategies of attack and defense within the permanent struggle against loneliness. Lust shows us a world where although the rules are simple, the winner never adheres to them.