TO NAVIGATION
*1968, Johannesburg, South Africa. Lives and works in Parktown, Johannesburg.
Kgafela oa Magogodi's experimental work with stand-up poetry, spoken-word theatre and essay writing has travelled globally. Working comfortably in both Setswana and English, he has been translated into various languages including German, Dutch, French and Catalan. Key publications include Thy Condom Come (2000) and Outspoken (2004), as well as Wunderhorn (2013), a book and CD anthology of poetry by eight South Africa poets. He has worked extensively in the theatre, as both a director and leader of spoken-word workshops that mix character development, storytelling, interpretive dance and political text. Currently, he is writing a stage play titled The Book of Rebellations, in collaboration with Monageng Vice Motshabi. Following his spoken word and music album Bua Fela (2008), Magogodi is currently composing music and poetry for a forthcoming album, Marabele Republic, in which he leads the band Kgafela le Marabele. Magogodi's spoken-word film, I Mike What I Like, directed by Jyoti Mistry, has been shown in numerous film festivals across the world. Itchy City, the video poem from the film that is included in the present DVD, was showcased in Afropolis, an exhibition on African megacities launched in 2010 at the Rautenstrauch-Joest Museum (Cologne).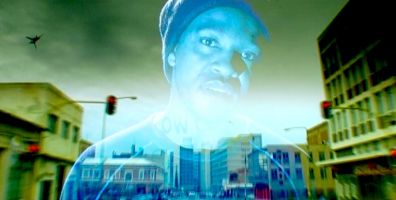 Itchy City [with Jyoti Mistry] / South Africa / 2006 / 5'37 / 4:3
Itchy City is a poem by Johannesburg­‐based author and spoken word artist Kgafela oa Magogodi. It is part of a larger project, titled I Mike What I like: a play adapted for the screen by Magogodi and filmmaker Jyoti Mistry. The film melds sequences from a live performance of the poem with filmed and painted images of Johannesburg, resulting in a powerful commentary on the complexities and the absurdities of everyday life in South Africa's economic capital.