TO NAVIGATION
*1973, Gauteng, South Africa. Lives and works in Amsterdam, Netherlands.
Jaco Bouwer is a producer, actor, dancer and designer who has worked extensively in South Africa and internationally. In the 1990s, he studied theatre at the University of Stellenbosch (South Africa). Among his many performances, some of the best known are Aars!, Tango del Fuego and Mamma Medea, staged by Marthinius Basson. In 2003, he received the Fleur de Cap award for his direction of Spanner, by South African playwright Saartjie Botha, and in 2008 he won the Standard Bank Young Artist Award for Drama. His most recent productions include Untitled 1 and 2 (South African National Arts Festival, 2008) and Altyd Jonker (KKNK 2006), which won three Kanna awards as well as a Fleur de Cap award for best director (2007). He is currently studying at Das Arts in the Netherlands.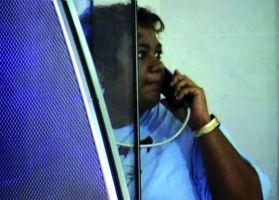 I Love You Jet Li (with Stacy Hardy) / South Africa / 2005 / 11'20 / 4:3
Beijing, China. International Wushu master and cult Kung Fu film legend Jet Li tours the city to promote his latest blockbuster action film. 12 000 km away, at an airport in Africa, a young woman waits to fly out to meet him. What follows is a peculiar tale: part love letter, part post-traumatic electronic travel diary. Written by Stacy Hardy and directed by Jaco Bouwer, with an original soundtrack by acclaimed experimental electronic composer Felix Laband, the film speaks of intense loneliness, desire, anxiety and incomprehension in the face of movement - across space, borders, class and gender divides - at once always incipient and forestalled.