TO NAVIGATION
*1978, Tunis, Tunisia, of a Tunisian father and a Swiss mother. Lives and works between Paris, France and Tunis, Tunisia.
Ismaïl Bahri works with drawings, video, installation and photography. Each of his works explores processes and materials of his own but have in common their minimalism and strong graphic content. His research deals with the notions of transience, the imperceptible and the vulnerable.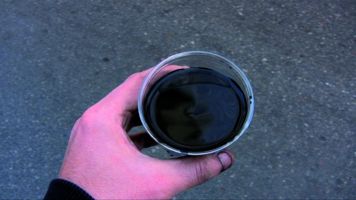 Orientations (Variation 1) / Tunisia-France / 2010 / 7'30 / 16:9
The video Orientations (Variation 1) comprises a sequence filmed by a subjective camera that relates the story of a walk in the city of Tunis. The off-screen surroundings are reflected in a glass filled with ink which serves as a compass and an illusory float for this funambulistic progression. In this very simple optical device, the fragmented appearance of the city points the way and stretches the horizon. The video shows a walk by a short-sighted person – a gathering of images on the surface and a distraction of the senses.
Résonances / Tunisia / 2008 / 7' / 16:9
Resonances starts with the prospecting of the bathroom from my childhood. Black inked words written in Arabic on the bathtub surface scatter and propagate progressively. They resonate and echo night scene recollections. Transformed in a resonance chamber, the bathtub mixes the fluids of these evanescent thoughts. By reflecting its surroundings, the ink blurred water surface, overturns and clouds the words. The backward surge of the night reveals the scars of a troubled universe, verging on obliteration.