TO NAVIGATION
*1977, Saint Petersburg, Russia. Lives and works in Paris, France.
Nazim Djemaï grew up in Algiers. He came to Paris to study at the Sorbonne between 1997-1998 before completing a degree at the École des Beaux-Arts in Paris in 2004. Djemaï has created several videos, documentaries, and short films. One of his films, La Parade de Taos, depicting love encounters in the public parks of Algiers, was selected by the Premiers Plans festival in Angers, France and at the International Short Film Festival in Clermont-Ferrand, France. His documentary entitled Nawna (I Don't Know), on the creation of an autonomous Inuit government, received the Beauregard award at the FID festival in Marseille.
Since 1997 Nazim Djemaï has been presenting his photographs and videos, both solo and collectively at various locations across France including the Parc de la Villette in Paris, the Cergy Beaux-Arts School, and the Cité internationale des arts. His photogaphs have been presented and published, most notably by the City of Vanves, and have been selected for the Gilles Dusein photography award. His work has been included in a number of publications including La photographie en France (Photography in France) 1970-2005 and the Plus que vrai exhibition catalogue.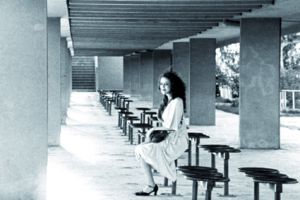 La Parade de Taos / France-Algeria / 2009 / 19' / 16:9
Taos, a very beautiful young lady, regularly meets a man in the zoo of Algiers. There, the lovers feel ill at ease in front of the hostile glances of the walkers and find intimacy only when shielded by the vegetation. One day, Taos waits in vain for her lover. For the first time, she is alone in the garden. She roams, soon harassed by a group of kids, then by a guard. This short film creates its own aesthetic with great subtlety, preferring the art of suggestion and the implicit rather than didacticism. Through its extreme attention to textures, to material and objects, La parade de Taos develops a bitter and moving view visible to the touch whose literal equivalent is situated between essay, novel and prose poetry.