TO NAVIGATION
*1973, Durban, South Africa, lives and works in Cape Town, South Africa
Ismail Farouk is an artist and urban geographer. In his practice, he focuses on developing creative responses to racial hatred, social injustice and ghettoization. Currently, he holds the position of Researcher at the African Centre for Cities (University of Cape Town); he is responsible, there, for the Central Citylab project and, in this context, focuses on urban cultures. His work has appeared in several exhibitions: Afropolis (Rautenstrauch-Joest-Museum, Cologne, 2010); Urban Concerns (Johannesburg Art Gallery, 2008); ZA: Young Art from South Africa (Palazzo delle Papesse, Sienna, Italy, 2008; Apartheid: The South African Mirror (CCCB, Barcelona, 2007). In 2008, he was a fellow at the MAK Centre for Art and Architecture, Los Angeles; this residency gave rise to the exhibit Canceled Without Prejudice (2008-2009). Ismail Farouk was the first recipient of the Sylt Quelle Cultural Award for Southern Africa (2008), presented by the Goethe Institut, South Africa.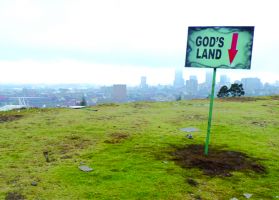 God's Land / South Africa / 2009 / 2'15 / 4:3
In Highlands Hill, Yeoville, a neighborhood in an inner city of Johannesburg, hundreds of worshippers gather daily to pray. This causes friction with the municipality, which has earmarked the area for housing re-development. The City Parks authority has designated the Hill as a "no prayer" zone and threatened mass arrests. By altering existing exclusionary signposts on the Hill and focusing his camera work on the footfalls of a man walking freely across it, the filmmaker, an urban geographer, highlights social injustice issues that pit the spiritual needs of local communities against mainstream development.