TO NAVIGATION
*1976, Diyarbakir, Turkey. Lives and works in Diyarbakir, Turkey.
Berat Isik uses video to confront the social and political problems of his country including issues concerning minorities. His poetic contribution includes his participation in the collective work intitled Emploi Saisonnier under the influence of a poem by Eluard: "Quelques uns des mots qui, jusqu'ici, m'étaient mystérieusement interdits" organized with Sener Ozmen and Cengiz Tekin at Galerie de la Friche la Belle de Mai in Marseille at the beginning of 2010.
A recepient of the 23rd International Contemporary Artists Istanbul Exhibition Achievement Award (2004), his works have been presented in numerous exhibitions and festivals including No Room for Panic Outlet, Istanbul (2009), (Very) Small Distortions In The Order, 28. International Istanbul Film Festival (2009), Art Without Borders, Istanbul and Yerevan (2006-2007), Hilcot Shechenim/Chapter C, Eliat Holon (2005), Placebo Effect, Berlin (2004), I am Too Sad to Kill You, Istanbul (2003).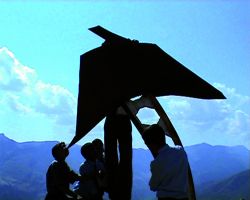 Where bluebirds fly / Turkey / 2008 / 26' / 4:3
Within a magnificent countryside cut off from the world (Kurdish mountains), the documentary gives us a view into school life and relies on a series of interviews with the students. Within the same social environment, where everything is planned in order to keep the adolescents under control and to normalize them to a predetermined model, their worries, orientations, and their future outlook turn out to be very different over the long term. The building of the sculpture and the making of this video documentary is a period in which they leave their normal boundaries and find time to experiment with life.